Village Meeting Hall Bathroom Project – Thailand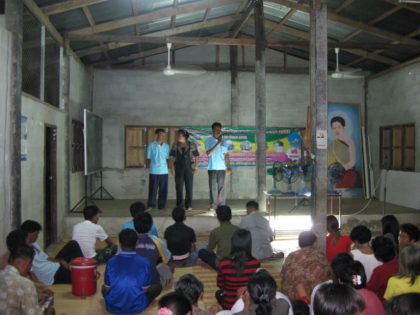 Location
Non Khun District, Sisaket, Thailand
Community Description
Ban Phrong Village is located in the district of Non Khun in Sisaket Province of Northeastern Thailand.
The village has a community meeting hall, which is often used for a variety of events including health talks, government meetings, meetings to prepare for local festivals, and senior group meetings. Most villagers attend a function at the meeting hall at least monthly.
Currently there are no bathrooms in the meeting hall, and people must use the toilets in the surrounding homes, if available.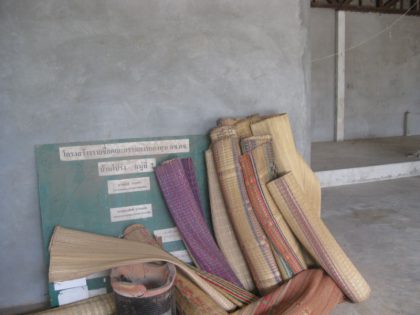 Project Description
This project will provide two bathrooms, one for men and one for women, in the community meeting hall.
The project will be carried out under the direction of the Non Kor Sub-District Administration Office.
Local villagers and health volunteers have already completed a plan for creating the bathrooms and will work together on the construction.
Project funds will be used for purchasing materials, as the villagers have agreed to undertake the labor themselves.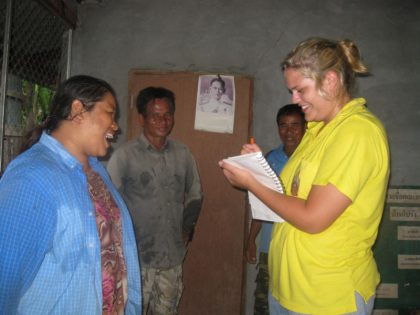 Project Impact
There are 429 people in the village that will benefit from the project.
Peace Corps Volunteer Directing Project
Sarah Brooks
Comments
With the bathrooms installed, community groups, including those groups making local products, will be able to meet and work in a clean and safe environment.
This project follows up on the prior project successfully completed by PCV Sarah Brooks, the Non Khun School Water Project – Thailand. The villagers of Ban Phrong were inspired by that project, and decided start one of their own.
Dollar Amount of Project
$500.00
Donations Collected to Date
$500.00
Dollar Amount Needed
$0.00 – This project has now been fully funded, through the generosity of The Soneva SLOW LIFE Trust as a part of their Clean Water Projects initiative.
We encourage others to continue to donate using the Donate button below, and we will notify Peace Corps Volunteer Sarah Brooks of your donation. Additional funds will be used to fund the next project by Sarah and/or those of his counterpart PCVs in Thailand.
This project has been finished. To read about the conclusion of the project, CLICK HERE.