Tuni Grande Well and Water System Project – Peru
This project is made possible through the partnership of WATER CHARITY and the NATIONAL PEACE CORPS ASSOCIATION.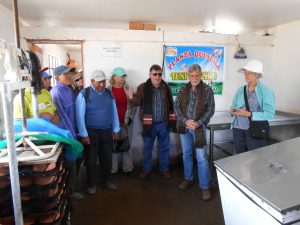 Location
Tuni Grande, Pucará, Lampa, Puno, Perú
Community Description
Tuni Grande is a rural community of 250 people living in a compact settlement with fields on a plain and hillside. Most families in this community make a living with a combination of agriculture and cattle husbandry. Community members have a strong tradition of working to achieve community projects. The village is located at 3,910 meters (12,830 feet) above sea level.
Problem Addressed
Tuni Grande has an existing reservoir, connected to an existing 15-meter well, to provide water to the community. However, the water supply is not continuously available, and it is contaminated.
Project Description
This project is to build a second well, a caisson well, with an automated pump, distribution piping, and purification system, to serve the community.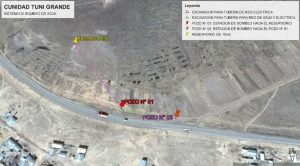 The new well will be 1.1 meters in diameter, dug to a depth of 15 meters and be served by an automatic pump. The new and existing wells will have suitable concrete and metal covers to prevent contamination.
The existing well will be lined and used as an intermediate storage tank, and adequate distribution lines will be built.
The design provides for filtration of arsenic, a contaminant found in the water of this region.
The project requires substantial excavation, which will be provided by members of the community.
Water Charity funds will be used for materials and skilled labor.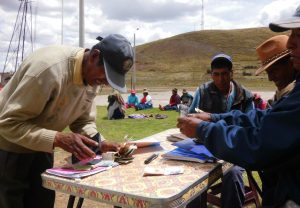 Project Impact
250 people will benefit from the project.
Returned Peace Corps Volunteer Directing Project
The project will be administered by Ralph Bolton, Returned Peace Corps Volunteer (Peru,'62-'65), and founder and director of The Chijnaya Foundation. Work will be done under the direction of Chijnaya's operational arm, Association Pro-DIA, a legally-constituted Peruvian counterpart.
Monitoring and Maintenance
The major components of the installation have an expected life of 10 to 25 years with normal use.
The community will collect funds sufficient to maintain the facilities, conduct repairs, and perform replacements when necessary. Tuni Grande has an excellent record of community participation.
Project Funding
Funds committed by a longtime Water Charity donor, the Paul Bechtner Foundation, have been made available for funding the Altiplano Water Program – Peru. All donations made using the Donate button on this page will be applied toward that program and will be matched, dollar for dollar, by the donor.