Conclusion of Tumenbaev School Latrine Project – Kyrgyzstan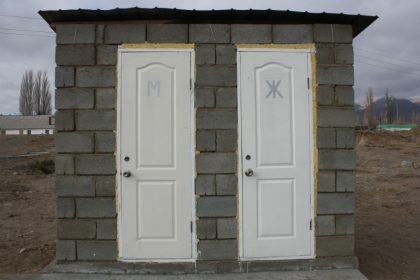 This project has been completed under the direction of Peace Corps Volunteer Emma Distel. To read about the beginning of the project, CLICK HERE.
The project was to construct a new toilet building on school grounds.
Emma reports:
Upon receiving the funds for the construction of the teacher's toilet at Tumenbaev School my director first petitioned the local government for salaries to help pay the local workers. He was granted this request, and through the community we were able to employ 3 men to begin construction.

These men and my director went to the nearest town to purchase the supplies needed to build the toilets. They brought the materials back to the village to begin construction.

Since the pit was dug 3 years ago, there was minor work to clear it out and ensure its stability. They used an excavator for this task. Afterward, the work staff began construction on the foundation of the walls. Using bricks and concrete, they made the outer wall, laid the flooring cement, and then began the inner dividing wall between the male and female sections.

While the basic construction was in progress, my director traveled to the nearest town and ordered two locking doors for each toilet. The keys for these doors hang in the teachers' lounge where the staff of Tumenbaev School can use them as needed.

The final outcome of this project is one new standing structure with four outside walls and one inner wall dividing the men's and women's sides of the toilet. There is one hole and a very small window for ventilation in each side.

A small sidewalk was also made to allow easy access during all the seasons. The teachers are very pleased with this addition to the school. They are happy to not have to use the same toilet at the students and to have a locking door to ensure their privacy.
We are grateful to Emma for completing this project, and again extend our thanks to her friends and family for providing the funds.