Conclusion of Tomas Public Bathroom Project – Peru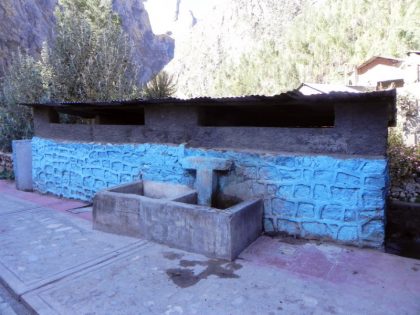 This project has been completed under the direction of Peace Corps Volunteer Alexandra Ogden. To read about the beginning of the project, CLICK HERE.
The project was to install 6 working toilets in public bathrooms in Tomas.
Alexandra reports:
Upon receiving the funds from Water Charity, I went to the city of Huancayo with the President of the local Natural Resources Committee of Tomas to buy the materials necessary to renovate the public bathrooms. They purchased the toilets, sinks, screws, pipes, plywood, and other materials for the public bathrooms and contracted a car to transport the materials back to Tomas. They then made a list of all the materials that were still needed for the project and submitted it to the Municipality of Tomas, requesting the donation of bags of cement, several more tubes and pipes, and manual labor to renovate the public bathrooms.

The Municipality agreed to donate the materials that were not purchased with the funds from Water Charity, as well as pay each of the members of CORENA to do the manual labor to install the toilets in the public bathrooms.

On November 21, 2011, the members of CORENA began construction on the public bathrooms. They filled in the holes through which human waste was passing into the river below and raised the floor of the existing bathrooms, installing the pipes and tubes necessary on top of the existing floor. They attached the toilets to the water and to the sewer system, having first to break through the concrete on the road outside of the bathrooms to open the sewer system and attach it to the new toilets.

The CORENA members also raised the ceiling (since they had to raise the floor) of the existing bathrooms and installed several clear panels in the ceiling to allow sunlight to come through during the day to light the interior of the bathrooms.

Bathrooms stalls were constructed and installed using the plywood purchased in Huancayo. Next and lastly, a door was installed on the women's and men's bathrooms so that they could be closed and locked at night to avoid vandalism.

It proved to be somewhat difficult at first to identify who would clean and manage the new public bathrooms—the Municipality thought CORENA was going to be responsible for the management and upkeep of the bathrooms, whereas CORENA assumed, since the Municipality is responsible for hiring personnel to clean the other public bathrooms throughout town, that these same personnel would be responsible for the newly renovated public bathroom. However, eventually the Municipality did assume responsibility for the new bathrooms and the cleaning personnel eventually assumed responsibility for opening the bathrooms and cleaning them in the mornings, then locking them again at night.
We are grateful to Alexandra for completing this project, and again wish to thank the Elmo Foundation for providing the funding.