Conclusion of Tkibuli Public School No. 1 Water Project – Georgia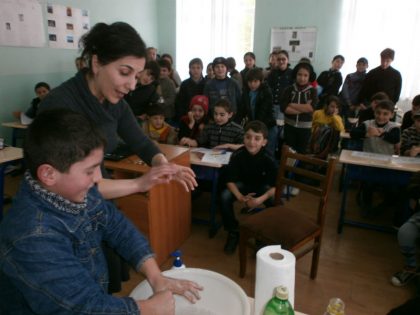 This project has been completed under the direction of Peace Corps Volunteer Drew Sullivan. To read about the beginning of the project, CLICK HERE.
The project was to install running water to supply the bathrooms at the school.
Drew reports:
As specified in the project description, the parts have been in installed. The students and faculty at my school are now able to flush toilets and wash their hands.

Running water was brought to two sinks in the students' bathrooms and to 12 toilets in both the students' and teachers' bathrooms.

A local doctor also facilitated handwashing trainings for all of the third through sixth graders at my school. She conducted a separate training for each grade level.

A big thanks to you and your organization for helping implement this.
We are grateful to Drew for completing this project, and again wish to thank his friends and family for providing the funding.