Thnot Chum 5 + Pnou Village Well Projects – Cambodia
This project is made possible through the partnership of WATER CHARITY and the NATIONAL PEACE CORPS ASSOCIATION.

Location
Thnot Chum 5 Village, Prasat Commune, Santuk District, Kampong Thom Province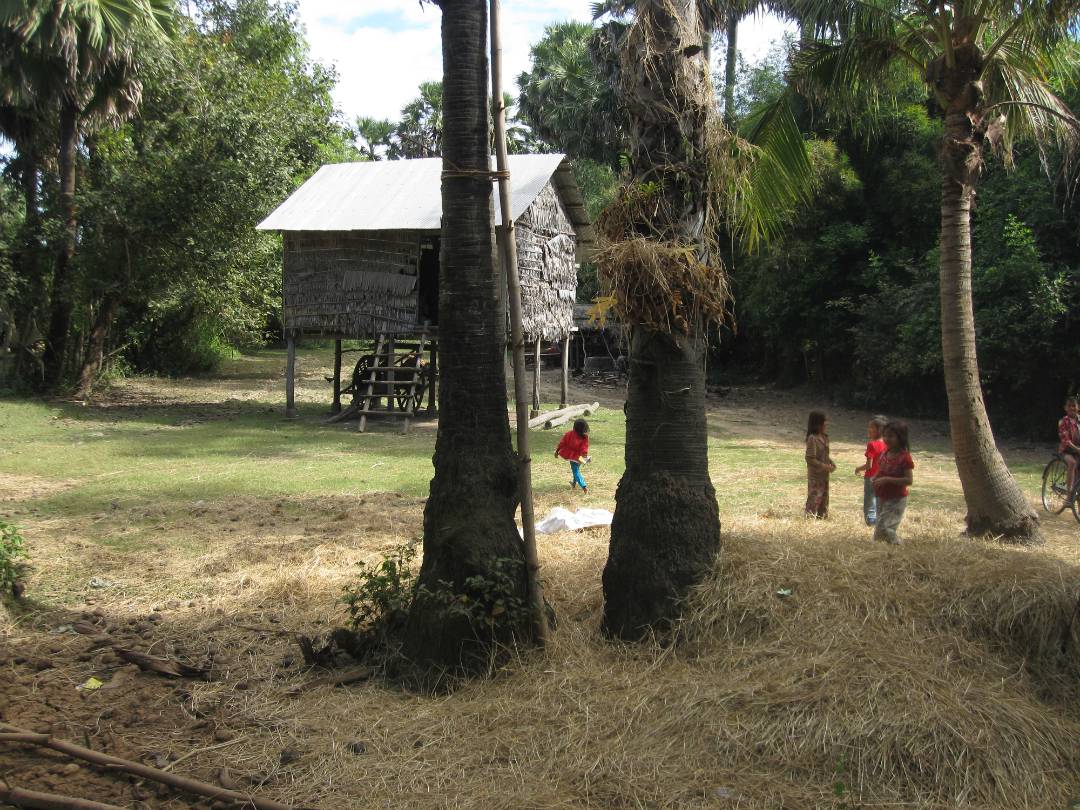 Community Description
This larger than average commune in Kampong Thom province has nearly 100% of residents who farm. Although it is only eight kilometers from the National Road, it faces huge economic and educational disparities even from the nearest town. Multiple families tend to live in compounds and share wells or walk to nearby locations that have shared wells for the community.
Problem Addressed
There are no paved roads in Thnot Chum 5 Village, and the houses in this particular part of the community sit off of a mud road. They face severe flooding during the rainy season, and the water from the holes which they have dug is always very dirty and full of trash. Additionally, they have no cover for these sources, thus allowing the seeping in of human and animal fecal matter. Furthermore, the holes are perfect environments for mosquito breeding.
Thnot Chum 5 Village sits near a river, so the families rely on it for their water source. However, some houses sit 500-800 meters away from the river so retrieving water is a strenuous task and it is often very dirty as the river is used for everything from laundry to trash disposal to water buffalo bathing (and defecation). The situation is very similar in Pnou Village, about four kilometers from Thnot Chum 5.

Additionally, a large Buddhist Pagoda Compound that houses 10 monks is without a clean water source. Both vllages would like to put in wells for all the surrounding houses to share. Wells will be placed in a public location, not on the land of a single-family. This well would be placed on public land, behind the pagoda compound but near a busy road used by all local families. The local Commune Chief chose this location so that it could be used by all villagers.
Project Description
This project will build two wells, in two separate villages, on public land accessible to any villagers. The wells will be in a central spot in order to provide the highest convenience for surrounding households. The water will be used for drinking, cooking, washing clothes, and body and household hygiene.
Basic, bucket draw wells will be built by a local construction worker. No machinery will be used to dig the wells. The wells will be between 6 and 8 meters deep. A pump well is not an option because there are high levels of arsenic in this area. Digging deep is not an option.
The construction will include concrete lining with a runoff area. Community members will build a cover for the wells and will work together to maintain them.
Project Impact
240 Villagers from both villages will gain access to clean water for drinking, cooking, bathing and hygiene.
Peace Corps Volunteer Directing Project
Josephine Mahlie
Monitoring and Maintenance
After the project is complete, water samples will be collected to test for potability, and the PCV will educate the villagers on proper water safety. Community members will work with the Peace Corps volunteer and commune/village chiefs to ensure the continued maintenance of the wells.
Comments
This is Josephine Mahlie's 3rd project in Cambodia with Water Charity. We are proud to say that together we have been able to have a solid impact on the water and sanitation issues in the region. You can check out Josephine's other projects by clicking this link: https://watercharity.com/?s=Mahlie
Dollar Amount of Project
$1,600
Donations Collected to Date
$150
Dollar Amount Needed
$1,450
ADOPT THIS PROJECT BY CONTRIBUTING THE DOLLAR AMOUNT OF THE PROJECT
Donations of any amount will be appreciated. The full amount will allow you a posted dedication, if that is something you would like.
This project has been finished. To read about the conclusion of the project, CLICK HERE.