Conclusion of Thmar Puok Hospital Well Project – Cambodia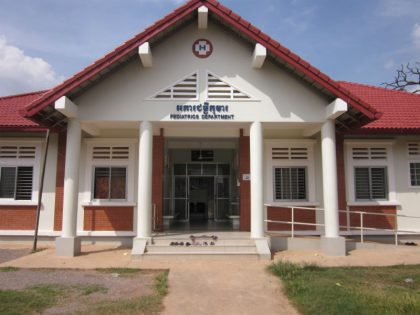 This project has been completed under the direction of Peace Corps Volunteer Kelsey Hedrick. To read about the beginning of the project, CLICK HERE.
The project was to repair the two wells at the hospital.
Kelsey reports:
The well project went extremely well (no pun intended)! It was a very successful project.

Dr. Kim Samul, the director of the hospital, was very pleased with the work done because it allowed a reliable and clean water supply to go to the brand new children's unit. The workers not only repaired the well, but also laid new pipes to the new children's ward.

A water engineer who was visiting also noted that the well water was much cleaner than the pond water that was formerly used in the hospital. The engineer tested the water and confirmed that this new clean water is extremely effective in the hospital.

The hospital has begun using the new water for many new sanitation initiatives, including cleaning beds and wards, an infection control drive, and general sanitary practices throughout the hospital. They plan on using the water for a vegetable garden very soon!
We extend our thanks to Kelsey for completing this project and to Burke Tran for providing the funding.