Thmar Puok Hospital Well Project – Cambodia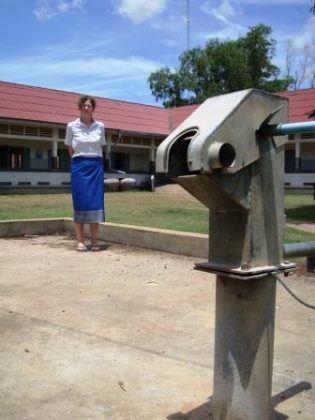 Location
Thmar Puok, Banteay Meanchey, Cambodia
Community Description
Thmar Puok District town is located in the northwest Province of Banteay Meanchey 50 kilometers north of the Provincial Capital of Serei Sophon.
One of the biggest concerns for people in Thmar Puok is the shortage of water. In the dry season, sanitation decreases because of the lack of available water in the area.
The Thmar Puok District Referral Hospital is the biggest health facility within a 40-kilometer radius. It has two wells for use by the staff and patients, but neither of them is currently functioning.
Project Description
This project is to repair the two wells at the hospital.
The work will be performed by local technicians, and completed before the start of the rainy season.
Project Impact
The hospital serves both the Thmar Puok and Sway Chek districts, with a combined population of 111,197 people who will benefit from the project. There are 147 villages within these districts. There are 49 staff members within the hospital.
Peace Corps Volunteer Directing Project
Kelsey Hedrick
Comments
This project by Peace Corps Volunteer Kelsey Hedrick follows upon her successful completion of the Thmar
Puok Bathroom Project – Cambodia.
This is a vital project that must be done at once so that hygiene and sanitation can be restored within the hospital.
Dollar Amount of Project
$500.00
Donations Collected to Date
$500.00
Dollar Amount Needed
$0.00 – This project has now been fully funded through the generosity of Burke Tran, of San Francisco, California, USA.
We encourage others to continue to donate using the Donate button below, and we will notify Peace Corps Volunteer Kelsey Hedrick of your donation. Additional funds will be used to fund the next project by Kelsey and/or those of her counterpart PCVs in Cambodia.


This project has been finished. To read about the conclusion of the project, CLICK HERE.