Conclusion of Third Public School of Sagarejo Water Project – Georgia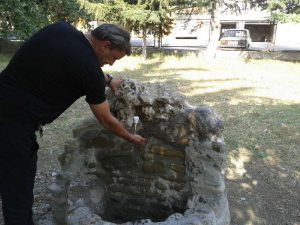 This project has been completed under the direction of Peace Corps Response Volunteer (PCRV) Emily New. To read about the beginning of the project, CLICK HERE.
The project was to install a water system to provide for the needs of the school.
Emily reports:
Thank you for your assistance in bringing clean water to the children and teachers of the Third Sagarejo Public School.

Because of the hard work of local plumbers and handymen, water is now available in the school's front yard and outside the school's outdoor restrooms. As a result of this, the 70 students between the ages of 6 and 18 who attend the school and the 25 teachers working at the school daily are now able to drink water and wash their hands while at school.

These teachers, these students, and these students' parents are incredibly grateful for your generosity. Many parents have sought me out to thank me for my part in making their children's educational experience more comfortable and the children are happy to have a better way to cool down after their long and hot treks to school.

With the assistance of parents, teachers, and the larger Sagarejo community, the Third Sagarejo Public School was able to install pipes running from a nearby well to the school's front and back yards. They then attached faucets to these pipes to create a water fountain in the school's front yard and a faucet to wash hands outside the school's outdoor restrooms.

The faucets were reinforced with stones and cement to prevent them from breaking with use and to keep the water inside the pipes cooler.

Finally, drains were installed below both spigots to prevent flooding. To prevent vandalism, the fence surrounding the school's perimeter will remain locked when school is not in session.

Three local handymen completed the construction of the sinks and all materials were purchased in Sagarejo. Parents donated the money needed to purchase stones, clamps, iron pipes, the faucets, and insulation. They also helped with the transportation of the materials. The school's director monitored all expenses and kept a detailed expense log and all receipts.

Now that there is water available on the school's premises, the school has decided to hold a ten-day English Language and Sports summer camp this August. This camp will host 30 children who will be selected based on interest and need.
We are grateful to Emily for her service as a PCRV, and in particular for her work in implementing this project. We again thank the Paul Bechtner Foundation for providing the funding.