Conclusion of Thiewal Lao Women's Groups Well Project – Senegal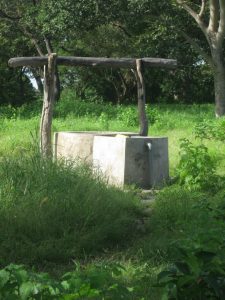 This project has been completed under the direction of Peace Corps Volunteer Stephanie Griffin.
To read about the beginning of the project, CLICK HERE.
The project was to dig a well and repair and upgrade the community garden.
Stephanie reports:
This project sought to add another well and basin to the women's garden in the village of Thiewal Lao. A previous Peace Corps Volunteer had established the garden, but after its first year, the fencing (put in by the community) had fallen, allowing animals to graze, and the women were discouraged from gardening there the following season.

Also, there was only one shallow well and basin in the hectare space, and it was proving challenging to meet the year-round water needs of the garden.

Water Charity funds were used to dig another well and build a new basin. Two men in the community with experience with previous Peace Corps projects were hired to purchase the materials (cement and PVC piping) and to dig. They successfully bought all materials and brought them into village and began work.

Simultaneously, the villagers were to repair the garden fence themselves. Unfortunately, they did not keep to schedule. It was not until earlier this year that the fence was fixed—and that was because of a local NGOs insistence.

World Vision, an NGO very prominent in the Kolda region, had been attempting to work with the yet-unfinished women's garden, and it struck a compromise with the village after a large meeting: If the community repaired the fence within a week, World Vision would pay for yet another (third) well, as well as deepen the two current ones.

Thus, the fence was repaired and three wells will be supporting the community garden. After the first rainy season, marked improvements in the yield were seen.

Thank you for all your help.
We are grateful to Stephanie for completing this project, and again extend our thanks to Catherine Van De Veer for providing the funding.