Thianguey Latrine Project – Senegal
Location
Thianguey, Kedougou Region, Senegal
Community Description
Located in the southeastern corner of Senegal, Thianguey is a small, primarily agricultural village, approximately thirty kilometers from the regional capital. Comprised of about 50 compounds, it spreads over 3 kilometers, with large agricultural fields in between. It is primarily made up of Guinean refugees and all are Pula Futa.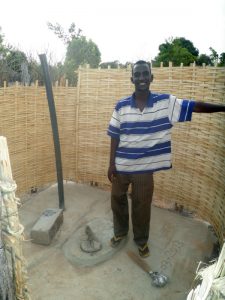 Problem Addressed
In January 2013, 35 pit latrines were built using a PCPP grant. The first 35 families who dug an appropriate (1 X 1 X 2) pit, provided the wood, sand, and gravel, and received the steel, PVC, and concrete latrines, in the order in which the pits were dug.
A training was organized in which six men from Thianguey, led by a skilled mason, capped the first two latrines and learned the process and associated skills. Afterward, in teams of three, they capped the remaining 33 latrines throughout the village.
Since then, a health training by a local NGO, La Lumiere, has convinced the remaining 14 compounds to dig pit latrines, and most households are nearing completion of the digging. These 14 latrines need to be capped and dry before the upcoming rainy season.
Project Description
This project is to build 14 latrines.
The project takes advantage of the skills of the recently-trained masons and the enthusiasm of the village population to construct the latrines.
Water Charity funds will be used to purchase the materials needed for the latrines, including cement and reinforced iron bars. The rest of the tools and materials are already available in the village.
The same six masons will cap the 14 latrines, for a small fee, paid using Water Charity funds.
The transport costs for the materials will be covered by the local president of the rural community, Kikilah Diallo.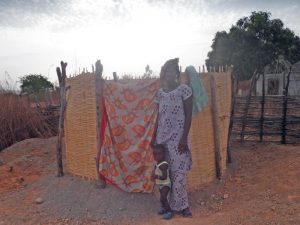 Project Impact
14 housing compounds composed of a total of 104 people will benefit from the project.
Peace Corps Volunteer Directing Project
Cameron Colliersmith
Comments
With the completion of these 14 latrines, the community will have the capacity to be free of open-air defecation.
Dollar Amount of Project
$555.00
Donations Collected to Date
$0.00
ADOPT THIS PROJECT BY CONTRIBUTING THE DOLLAR AMOUNT NEEDED BELOW
Donations of any amount will be appreciated. The full amount will give you "naming rights", if that is something you would like.
Any contributions in excess of the Dollar Amount of the Project will be allocated to other projects directed by this PCV and/or projects of other PCVs in this country.
Dollar Amount Needed
$555.00

This project has been finished. To read about the conclusion of the project, CLICK HERE.