Conclusion of Teso Honey Refinery Rainwater Catchment Project – Uganda
This project has been completed under the direction of Peace Corps Volunteer Joanna Groepper. To read about the beginning of the project, CLICK HERE.
The project was to install a rainwater collection system to provide water for the refinery and for crop irrigation.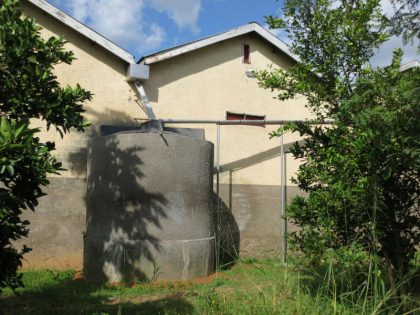 Joanna reports:
Way to go team!

The support staff at the Teso Honey Refinery has worked hard to install a rainwater catchment system. The community even contributed additional funds to secure the tank in concrete!

We started by finding a local contractor to assists us with free labor. We purchased a 10,000-liter plastic tank, metal poles, plastic gutters, sheet metal, and a tap.

The community solicited funds to purchase sand and concrete to enclose the tank, preserving it.

Once the tank was in place and secured in concrete, work began on the gutters. Two gutter boxes were constructed to manage the flow of water into the gutters that connect with the tank. A tap was added to the outside of the tank to provide access to the water.

After a few rain storms, all is working well! Teso Honey refinery workers have begun using the collected water to process wax left over from the processing of honey. One member of the refinery who farms the land surrounding the building has plans to use the rainwater to continue watering his crops through the dry season.
After seeing the success, and future benefits to crops, members in the surrounding communities have plans to add water catchment systems to the savings goals.
We extend our thanks to Joanna for completing this project with extraordinary results far beyond those anticipated for this modest project. We are still seeking donations.