Conclusion of Terebovlya Boarding School Bathroom Project – Ukraine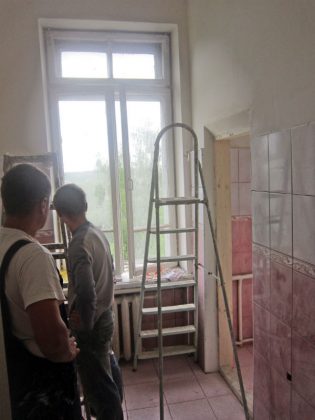 This project has been completed under the direction of Peace Corps Volunteer Brendan Keegan. To read about the beginning of the project, CLICK HERE.
The project was to provide the school's youngest students with sanitary facilities by renovating a restroom at the school.
Brendan reports:
We finished the bathroom project funded by Appropriate Projects.

The school maintenance staff started the project by accomplishing the following over a period of about two weeks:

1. Removed flooring (cracked, rotting, uneven)
2. Removed wall and ceiling laminate (also cracked and peeling)
3. Removed toilets (old, broken, uneven)
4. Removed all old pipes (leaking, old)

Local workers then accomplished the following over the next two weeks:

1. Leveled the floor
2. Bought and installed tiles for floor and wall
3. Bought new ceiling laminate
4. Bought and installed new pipes
5. Bought doors for the stalls (previously there were none)
6. Bought paint and painted doors and frames
7. Bought new toilets

Water Charity funds paid for most of the materials and supplies, as well as for the local workers, who were doing the work at a discount. The new toilets were bought with school funds.

The project took longer than expected because the school staff members who volunteered to do the removal were not available until later in the semester. However, the final result is a great, clean bathroom! It was finished during the last week of school, but the students are excited to have a bathroom to use next year. The director and vice principals are, of course, extremely happy with the completion of the project.

Thanks again for helping the school with this project–the school community really appreciates what you've made possible, and the same with me. It was great to have the project finished, and to see that it was done so well, all because of your help.
We wish to thank Brendan for completing this project, and again extend our gratitude to The Soneva SLOW LIFE Trust for providing the funding.