Svay Leu District Water Purification Project, Phase 2 – Cambodia
This project is made possible through the partnership of WATER CHARITY and the NATIONAL PEACE CORPS ASSOCIATION.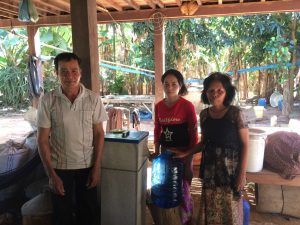 Location
This project summary has been redacted for security reasons to omit the specific project location.
R, T, and DK Villages, Svay Leu Commune, Svay Leu District, Siem Reap Province, Cambodia
Community Description
R, T, and DK Villages are among the most rural communities that Svay Leu Health Center serves. They are located 10km, 14km, and 20km from the health center respectively. This is also the relative distance for these communities from the main road and local market. They are located down a long, difficult dirt road, that sometimes becomes impassable during the rainy season.
The majority of the community are farmers, with some families selling necessary goods out of the front of their houses. In addition, there are other families who do not work but simply rely on money sent from family members working in the city.
R, T, and DK are close-knit communities, where everyone looks out for each other. Their houses are usually wooden and stilted to accommodate for the rainy season and house multi-generational families. You can often find mothers and grandmothers chatting underneath the house, watching the kids as they play and keeping the house running smoothly. Everyone is quick to offer a meal, a place to sit, and some good conversation.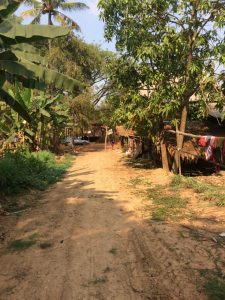 Problem Addressed
SL Health Center serves twenty-five villages over three different communes. Although many communities under the care of SL Health Center would benefit from a project like this, R, T, and DK Villages specifically presented a higher risk of hygiene-related illnesses due to their distance from SL Health Center, as well as the frequency and severity of illness when patients from these villages seek treatment.
R, T, and DK villages rely on the small streams from the nearby mountain, the rice fields, and rain collection as their main sources of water, and although there is enough water, it is often unsafe and risky to drink
Although many people are aware of how hygiene-related illnesses could be prevented, due to the many NGOs in the area who are educated on these topics, there are little to no resources to assist community members in improving access to clean water.
Project Description
This project is to build 117 water filters and install 117 handwashing stations in 3 villages.
This project will begin with 3 one-day education training for each village. The training will be for the 39 families in that village who would like a water filter and the 39 families who would like a hand washing container. This training will cover why having clean water is important, how to properly store clean water, and the positive short-term and long-term impacts of using clean water. It will also cover the importance of washing your hands, the proper handwashing technique, and how washing your hands can positively impact you and the health of your family.
After these large group educational training, smaller training will occur at participants' houses, with six families in attendance at each. This training will cover how to properly install and maintain your water filter, with one being done for demonstration. It will also address how to build and maintain your handwashing container, with everyone putting theirs together at said training.
These six families are then responsible for helping each other install and maintain their water filters in their homes. If there are any issues, these families are responsible for helping each other.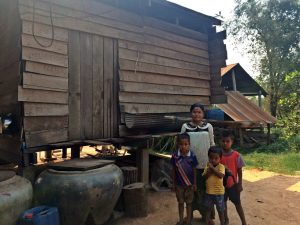 Project Impact
4,018 people will benefit from the project.
Peace Corps Volunteer Directing Project
Camille Becker will direct the project. Camille previously implemented the Svay Leu District Water Purification Project – Cambodia.
Monitoring and Maintenance
After all of the training is completed, follow-up will be conducted by the PCV and the VHSGs to visit each family and make sure their water filter and handwashing containers are installed correctly and working fine. In addition, comprehension checks and evaluation will be done by having participants tell the PCV and VHSGs about clean water, and handwashing at the large group training and one month after said training.
Follow-up will be conducted as necessary, and Hygiene-related illnesses within the villages under the care of Svay Leu Health Center will continue to be monitored by their staff. In addition, all the families participating will be responsible for looking out for and helping other community members if they run into issues with their water filters or handwashing containers.
Also, the director of the group who makes the water filters is a well-known member of the community, who is on hand and available should any family have any questions or concerns.
Fundraising Target
$8,000
Funds raised in excess of the project amount will be allocated to other projects in the country.
Donations Collected to Date
$0
ADOPT THIS PROJECT BY CONTRIBUTING THE DOLLAR AMOUNT OF THE PROJECT.
Donations of any amount will be appreciated. The full amount will give you "naming rights", if that is something you would like.
Dollar Amount Needed
$8,000