Svay Leu District Water Purification Project – Cambodia
This project is made possible through the partnership of WATER CHARITY and the NATIONAL PEACE CORPS ASSOCIATION.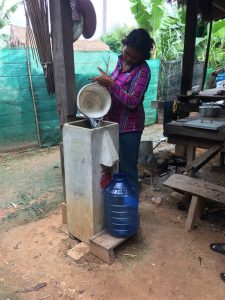 Location
This project summary has been redacted for security reasons to omit the specific project location.
Xxxxxxxx Xxxx, Svay Leu District, Siem Reap Province, Cambodia
Community Description
Xxxxxxxx Xxxx is a quiet, rural village located down a long dirt road, approximately 8km from the health center and the district market. It consists of around 120 families, all of whom live in wooden, stilted houses along their rice fields. Most community members make their living through farming or selling various wares out of the fronts of their houses.
The village contains one small primary school next to its community meeting hall, where moms and their children can be seen gathered throughout the day. The community hall is where all major events happen, including training from NGOs, blessings of the village by the local monks, annual vaccination outreach, and celebrations for the many Khmer holidays.
Xxxxxxxx Xxxx has two major water sources that feed the whole community, dug out rice fields that collect water during the rainy season.
Problem Addressed
The main health issue the community faces is a hygiene-related illness, especially in terms of clean water. Although there is a large water source located in Xxxxxxxx Xxxx, the water itself is dirty and can be unsafe to drink, especially for younger children, older community members, and pregnant or nursing women.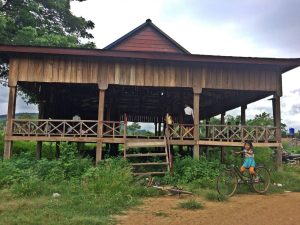 Most community members know about hygiene and sanitation, as there are many NGOs in the area that educate on these topics. However, there are no programs in place to bridge the gap between education and access to materials. As this is a low-income, rural community, this project will help families to sustainably and affordably improve their access to clean water and proper hygiene practices.
Project Description
The Village Health Support Group (VHSG) seeks to bridge the gap between education and access by providing 30 families with bio-sand water filters, and 50 families with handwashing containers to be placed outside of their bathrooms.
The bio-sand filters are made of concrete and will contain gravel, sand, and biological layers. They will remove bacteria and other pathogens and will be procured locally.
The project will begin with two, 1-day education training, where health topics concerning hygiene, clean water, and water storage will be discussed. The first training will be for the 30 families who will receive a water filter. This training will cover why having clean water is important, how to properly store clean water, and the positive short term and long-term impacts of using clean water.
The second training will be for the 50 families who will receive a handwashing container. This training will cover the importance of washing your hands, the proper handwashing technique, and how washing your hands can positively impact you and your families' health.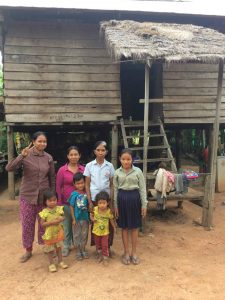 After these educational training, 5 smaller training will occur at participants' houses, with 6 families in attendance at each. This training will cover how to properly install and maintain your water filter, with one being done for demonstration. These six families are then responsible for helping each other install and maintain their water filters in their homes. In addition, there will be 5 separate pieces of training for the families who want a handwashing container.
Community involvement is a major component of this project and is essential for its success. This is ensured through attendance fees that promote ownership over the project and by having participants be responsible for building, transporting, and maintaining their water filters and handwashing containers.
Project Impact
500 people will benefit from this project.
Peace Corps Volunteer Directing Project
C. Becker
Monitoring and Maintenance
With 1- and 3-month follow-ups, the PCV and her counterpart will visit the participants' houses to observe whether they are implementing what was learned at the training, as well as if their water filters are being properly maintained.
Since the community members are being trained on how to maintain their water filters and handwashing containers, and are responsible for installing and building them themselves, it creates ownership over the project and makes it more likely the community will be invested in its success.
Funding
This project has been funded by the International Foundation. Please Donate to Water Charity to allow us to start new projects in Cambodia and elsewhere.