Sung Pra Sat Primary School Bathroom Project – Cambodia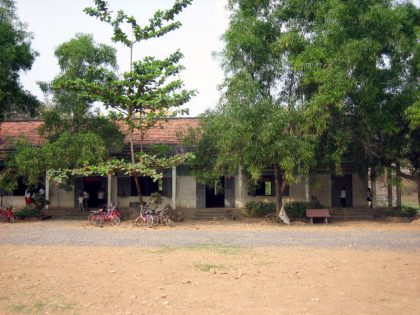 Location
Phnom Touch Village, Mongol Borey District, Banteay Meanchey Province, Cambodia
Community Description
Phnom Touch is a village south of the district town of Mongol Borey, located in Banteay Meanchey, Cambodia. With a population of over 11,000, the village has a high rate of poverty, and lacks trained health workers.
Most villagers work as rice farmers, with little education, and are generally considered to be the poorest people in Cambodia. There are a limited bathrooms and hygienic facilities within the community, resulting in illness and disease.
At Sung Pra Sat Primary School there are 16 teachers with a student body of 472. The school was constructed in 1965 and has been an active part of the community since it was started. Like all other educational facilities throughout Cambodia, after Pol Pot's regime fell, the school has strived to enable an excellent education, but struggles with poverty.
The limited bathrooms and bad sanitation has a negative effect on the number of students (especially girls) who attend school and pursue education. Due to a severely limited budget, the school has been unable to afford new bathrooms since 1995, despite a growing school population.
Project Description
This project is to add two bathrooms at the Sung Pra Sat Primary School.
The latrines will be ventilated improved pit latrines in a stand-alone structure. To start the process the laborers and volunteers will dig two holes. The pits will be three and a half feet square and at least five feet deep. The pits will be lined with cement, and covered with concrete plates.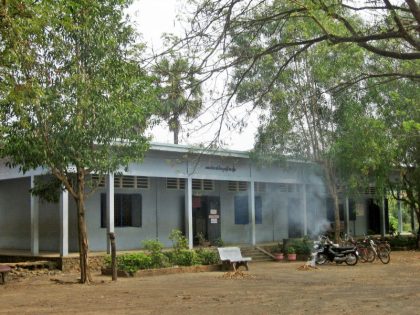 Water will be piped from the school's pond, which remains full year-round. In order to prevent contamination or health risks, wastewater will be piped into a sewage system.
The building will be constructed of bricks, and have an aluminum roof.
Construction will be done by skilled laborers who will use local materials. They will be assisted by students, who will learn the construction techniques.
Project funds will be used to purchase the bricks, cement, poles, wire, sand, rocks, aluminum roofing, vents, nails, tiles, grout, wood beams, toilet basin, sewage tank, pipes, drain, and pay for the labor of skilled workers.
The school will contribute $150 in order to provide sinks for handwashing, and will pay any additional amounts necessary to complete the project.
The school's administration has already started to plan meetings for local health volunteers to instruct the students on the importance of hygiene and sanitation.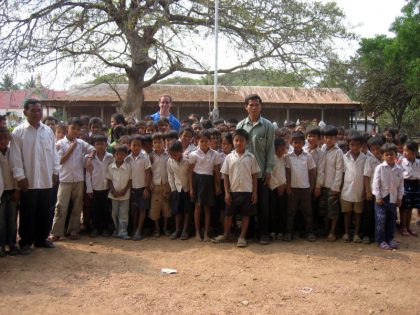 Project Impact
488 people, consisting of 472 students and 16 staff members, will benefit from the project.
Peace Corps Volunteer Directing Project
Justin Brumer
Comments
This project will create a safe and sanitary learning environment for present and future students and staff. The design utilizes the appropriate technology, taking into account functionality and ease of maintenance.
Dollar Amount of Project
$500.00
Donations Collected to Date
$500.00
Dollar Amount Needed
$0.00 – This project has now been fully funded through the generosity of The Soneva SLOW LIFE Trust as a part of their Clean Water Projects initiative.
We encourage others to continue to donate using the Donate button below, and we will notify Justin of your donation. Additional funds will be used to fund the next project by the PCV and/or other projects in the country of service.
This project has been finished. To read about the conclusion of the project, CLICK HERE.