Conclusion of St. Elizabeth Health Centre Maternity Ward Rainwater Catchment Project – Kenya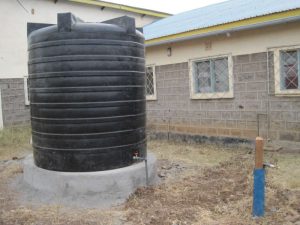 This project has been completed under the direction of Peace Corps Volunteer Sarah Droege.
To read about the beginning of the project, CLICK HERE.
The project was to install a rainwater catchment system at the St. Elizabeth Health Centre to provide water for the maternity ward.
Sarah reports:
Project Scope
The St. Elizabeth Health Centre Maternity Ward Rainwater Catchment Project was conceived, funded, and consequently executed in order to increase the ward's capacity to serve the Naroosura area's m0ther and child populations. Although the centre compound included a physical ward building, SEHC staff had refrained from earnest attempts to prepare the maternity ward for full-service operation – the greatest deterrent being the ward's lack of a reliable water source.

Appropriate Projects funding covered entirely the purchase of a 5,000-liter plastic tank, water tank fixtures, and a significant portion of the total rain-catchment gutter expense.

SEHC offered a community contribution, covering the cost of supply-transport, stand materials/construction, tank/piping/spigot/gutter installments, and all other incurred discretionary expenses.

Project Progression
Having received Appropriate Projects' approval on July 19, St. Elizabeth Health Centre's (SEHC) CEO, Sister Silvy Susanty, sought out individuals to initiate manual water tank installation preparations beginning the following week. The tank's future location underwent necessary landscaping July 22-26, the area cleared of brush and leveled.

Sister Silvy traveled to Narok on July 23 with several SEHC staff members in order to buy the 5,000-liter tank and arrange for same-day delivery. After executing prices comparisons, a Techno brand plastic tank was purchased along with necessary fixture components. It was delivered to SEHC that evening and stored to await stand construction.

From July 25-30 a permanent base for the water tank was built. Stones and sand from SEHC's compound were combined with purchased cement to create a stout cylindrical platform approximately 2 feet high and 6 feet in diameter.

Once the cement had been given time to properly cure, the tank itself was installed atop the base on August 1-2 and prepared for piping/spigot attachment.

On August 3, a subsurface pipeline was placed underground to connect the external tank to the ward's internal plumbing circuit. The tank was also affixed with an on-site spigot system, allowing for direct water collection.

Sister Silvy returned to Narok on August 5 in order to purchase five plastic 5-foot rain-catchment gutters, along with their various attachment components. Their roof installation was carried out accordingly August 6-9, small adjustments being made to spigot/piping systems throughout.

Sister Silvy made the project's final purchase on August 15, a 10-foot plastic pipe which effectively channels rain-catchment gutter accumulation into the tank's hold.

The water tank and gutter installation was officially completed on August 16, ready for immediate use and not a moment too soon. That very evening Naroosura received its first substantial downpour of the season!

Project Result
Ultimately, with the help of Water Charity's Appropriate Projects funding, a 5,000-liter water tank was installed on SEHC Maternity Ward grounds and was attached to a rain-catchment gutter system to allow for effective collection and storage of clean water for the ward's use. As hoped, the installation of a reliable water source for the centre's ward has expedited this facility's capacity to formally open and begin treating clients in its intended capacity.

Having completed the project in anticipation of the Naroosura-area's impending "short rains" season, the tank and gutter system will be of immediate use. Throughout September the ward will be furnished and physically equipped using current SEHC stores so that by the beginning of October it may transition into the site SEHC's maternal and child health clinic – a capacity previously offered in the centre's primary and increasingly overcrowded main building.

Each year SEHC treats an average of 5,000 children, 5-years-old and under, along with around 600 women of childbearing age. It is our belief that these statistics will be sustained and even augmented with the maternity ward's imminent launch. Now that the facility has consistent access to water, the ward's maternal and child care clinics will have a designated place to flourish, improving health care for pregnant women, young mothers, and Naroosura area children.
We are grateful to Sarah for completing this important project, and again wish to thank the Paul Bechtner Foundation for providing the funding.