St. Elizabeth Health Centre Maternity Ward Rainwater Catchment Project – Kenya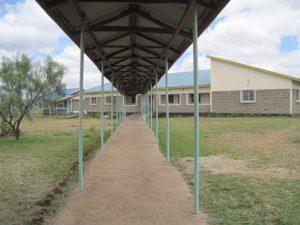 Location
Naroosura, Osupuko Division, Narok South District, Rift Valley Province, Kenya
Community Description
Naroosura and its surrounding villages lie nestled beside and amongst the Loita Hills, southeast of the Maasai Mara. Because of the area's considerable remoteness (the 65-kilometer road to Naroosura's nearest town, Narok, remains unpaved and is occasionally impassible during seasons of heavy rain), Naroosura has largely become the region's metropolitan hub. As a result, the town is culturally diverse "home" to individuals from all corners of Kenya and abroad.
The town itself boasts churches of several denominations, a lively Wednesday soko, a thriving local-business district, an SFIC convent, and two health facilities – the mission-run St. Elizabeth Health Centre and the local government clinic: Naroosura Health Centre.
The area is renowned for its tomato farming and many Maasai families continue semi-nomadic lifestyles typical to the raising and grazing of livestock.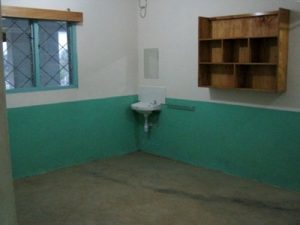 Naroosura-town itself is comprised of 11 smaller sub-communities, numbering 612 households in total. This immediate area is populated by 3,268 individuals, including nearly 700 women of child-bearing age and almost 300 children five-years-old and below.
Because of Naroosura's centrality to scores of local Maasai villages, the area receives a good deal of transient traffic. On average, St. Elizabeth Health Centre's maternal health clinic alone serves approximately 600 women-per-year, as well as caring for and immunizing over 5,000 children.
The area's prevalent Maasai-influence has greatly impacted the lifestyle of local residents and because of strong ethnic inclinations and beliefs, home-birthing continues to be the preferred method of delivery among many Maasai women.
Because of the potential for delivery complications present even in the most ideal of circumstances – not to mention traditional Maasai rites such as female circumcision, firstborn-fasting, and early marriages/pregnancies, all of which have the capacity to greatly exacerbate the difficulties inherent in childbirth – this issue has become one of great emphasis for the area's retinue of health-care workers in their campaign to improve the wellbeing of mothers and their children.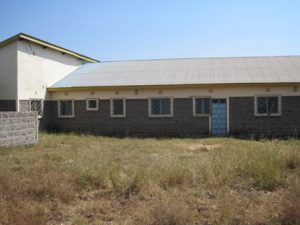 Problem Addressed
Since its establishment in 2005, the St. Elizabeth Health Centre has focused primarily on championing the wellbeing of mothers and their children, too-often marginalized demographics greatly in need of consistent and well-trained medical support. Sadly, however, the funds garnered to build both the facility's main building and its separate Maternity Ward were not enough to launch the two simultaneously. This has significantly hindered the facility's potential by obstructing its capacity to offer a wide array of maternal services at the Maternity Ward.
Although the Maternity Ward remains structurally sound and is physically prepared to be equipped and furnished, progress has been stagnated by the facility's lack of a reliable water source.
Tanks constructed for use on the compound effectively supply water to St. Elizabeth's main building, but the Maternity Ward has yet to benefit from such a consistent reserve. The deficit of this basic commodity presents considerable challenges for the doctors and nurses employed at St. Elizabeth.
A consistent water supply is necessary for everything from simple hand washing to post-delivery equipment sterilization. Because of the significant odds stacked against Maasai women during delivery – complications due to labial scar tissue (attributed to post-circumcision healing and subsequent births/re-stitching), overall weakness of both mother and fetus (attributed to various maternal-fasting rituals intended to stunt fetal growth in order to ease birth-canal passage), and issues as relate to young mother's physical immaturity (attributed to the high prevalence of early marriages/pregnancies) – labor is almost always unexpected, often lengthy, generally painful, and exceedingly vulnerable to all manner of serious medical problems.
Lacking access to water only serves to enhance the situation's precariousness and heighten stress levels for all parties involved in the delivery process.
Project Description
This project is to install a rainwater catchment system, at the St. Elizabeth Health Centre.
A 5,000 liter plastic water tank will be purchased and delivered to St. Elizabeth by truck from Narok.
A cement platform will be constructed on the south face of the Maternity Ward onto which the tank will be secured.
Rain catchment gutters will be installed along the outermost reaches of the Ward's roof and a pipe will channel rainwater from said gutters into the tank.
St. Elizabeth Health Centre grounds staff will assist in the assembly and installation of tank, stand, gutters, and piping, and will subsequently be charged with the system's upkeep and maintenance.
Water Charity funds will be used to purchase the tank, gutters, and other materials.
The piping and all components necessary to properly erect the tank will be purchased using St. Elizabeth funds as a community contribution to the project's completion. In addition, St. Elizabeth will cover transport costs for both tank and gutters, along with any incidental expenses that may arise.
Project Impact
This project will benefit 6,125 people per year, consisting of 600 women, 5,500 children, and 25 staff.
Peace Corps Volunteer Directing Project
Sarah Droege
Comments
A reliable water supply will allow the Maternity Ward to deliver critical services related to childbirth in a safe and sanitary environment.
Dollar Amount of Project
$555.00
Donations Collected to Date
$555.00
Dollar Amount Needed
$0.00 – This project has been funded through the generosity of the Paul Bechtner Foundation.
We encourage others to continue to donate using the Donate button below, and we will notify Peace Corps Volunteer Sarah Droege of your donation. Additional funds will be used to fund the next project by Sarah and/or those of other PCVs in the country of service.

This project has been finished. To read about the conclusion of the project, CLICK HERE.