Conclusion of Solugan Solid Waste Management System Project – Peru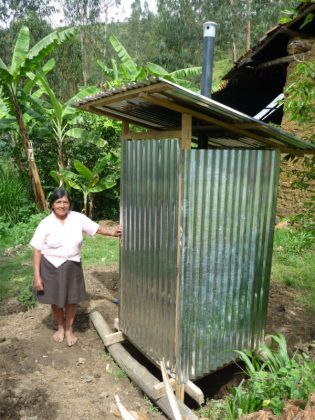 This project has been completed under the direction of Peace Corps Volunteer Laura Olsen. To read about the beginning of the project, CLICK HERE.
The project was to construct 64 individual trash pits for use by families to collect inorganic trash.
Laura reports:
Here in the northern sierra of Peru our rainy season usually lasts from mid-December through April. We were able to complete the educational sessions and latrine construction components of the project in October-December of last year, but since we received the funds from Appropriate Projects in January the project committee decided to wait to deliver the tin sheet and plastic to the families. It would be very difficult for them to dig the trash pits during rainy season without flooding issues since it rains quite heavily every day.

We had an unusually long rainy season this year with rains finally tapering off in late May. In June the project committee called a meeting of the families to review the steps necessary to construct a safe, effective trash pit (initially covered in an educational session held last November) and all 55 project families, as well as the community's elementary school and kindergarten, received their materials.

The committee members and I have been visiting all the families' homes to evaluate the project, and we were pleased to see how well the trash pits have been constructed. Many families were able to use the tin sheeting to make two trash pits, one for organic waste that will then be used as fertilizer and the other for non-decomposable trash.

The families all have expressed their gratitude for your organization's assistance with the project and the development of their community, and one woman told me yesterday (speaking of all the changes made in part through this project: safe latrines, appropriate trash disposal, guinea pigs in corrals instead of running free on the kitchen floor, etc.) "I can't believe how we used to live! This is so much better." I am confident that the trash pits will be a valued, long-lasting health resource for the community.

Thank you very much for all your organization does to support Peace Corps water and sanitation projects around the world. They might not be the attention-grabbing, large-scale development projects that make headlines, but our work in Solugan over the past months has shown me that they are truly interventions that change families' lives for the better.
We are grateful to Laura for completing this project, and again extend our thanks to the Elmo Foundation and to Deborah Olsen for providing the funds for this project and for future projects in Peru.