Solugan Solid Waste Management System Project – Peru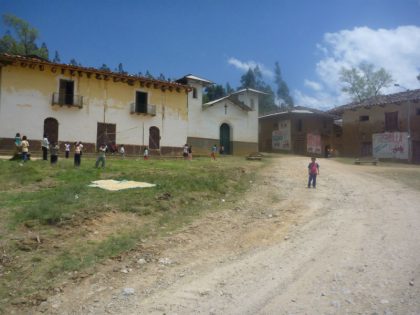 Location
Solugan, Tacabamba District, Chota Province, Department of Cajamarca, Peru
Community Description
Solugan, a rural mountain hamlet of 62 families, is widely recognized as one
of the poorest communities in the district of Tacabamba in Cajamarca, Peru. Economically the community relies on small-scale agriculture, growing sugar cane and sweet potatoes, but erosion and poor soil quality severely limit family incomes. As a result, many men have had to leave the community to find work to support their families, traveling as far away as the jungle or the desert coast.
Homes are scattered throughout the hills and are made of adobe bricks and tin roofs. Many families do not have running water or electricity.
Solugan residents have to walk at least an hour to get to the closest urban center, Tacabamba, which is the only location with important resources, like a weekly market, a health center, and a high school. Solugan now has its own small elementary school and kindergarten, but many adults in the community are illiterate due to lack of access to education in the past.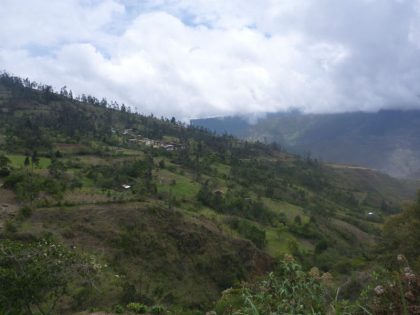 Health is a serious concern in Solugan, especially for its most vulnerable members: small children. The district health center estimates that 9 out of 10 children had parasites in 2010. 16% of Solugan children under the age of 3 were treated for acute diarrheal illnesses in 2010.
In 2010, chronic malnutrition affected 45% of Solugan children under 3 and an additional 36% were in the "at risk" category. In addition to a poor diet heavily reliant on carbohydrates like white rice and potatoes, repeated diarrheal illnesses and the concomitant loss of nutrients seriously contributes to this severe childhood malnutrition problem.
Many homes have free-ranging animals (including pigs, chickens, rabbits and guinea pigs) roaming the courtyards and kitchen floors. Trash, including plastics, waste paper, and organic material, is often left scattered in the fields or simply thrown into ravines, attracting flies which can carry diarrhea-causing pathogens and leaching potentially dangerous substances into the local environment.
None of the 62 households have a latrine built using proven, safe technologies (defined as at minimum the presence of a reinforced concrete floor, a ventilation tube, and an appropriate location to avoid contamination of subsoil water sources.)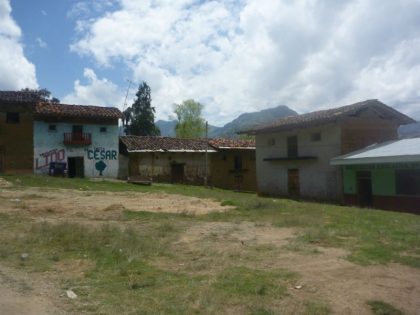 Currently, families in the community throw organic trash (mainly food waste like potato peels, fruit rinds, etc) directly into their fields to use as "fertilizer" and all other trash, including potentially toxic plastic material, is burned in small piles. The smoke is acrid and potentially carcinogenic and the open unattended flames pose a fire risk.
The community is located on a steep sloping mountainside overhanging the Tacabamba river and has a five-month rainy season, so there is a lot off runoff that directly enters the water source. Solugan is very close to a lovely waterfall which is a popular local tourist attraction, but the river is full of trash and looks pretty bad. In addition, the sewage from neighboring urban centers is dumped directly into the river without any kind of treatment. It is a widely known fact that it is not healthy to bathe or wash clothes in the water, and there are many signs posted along the bank saying "Danger, contaminated waters."
Project Description
This project is to construct 64 individual trash pits for use by families to collect inorganic trash, such as the ubiquitous plastic wrappers and other typical household waste.
Each pit will be approximately 15 meters from the household, close enough to be accessible but far enough to prevent odors or interference from kids/animals. Pits will be located on high ground to prevent flooding, and the tin and plastic sheeting will be used to prevent the accumulation of rainwater in the pit. They will also be located at least 15 meters from the family's water pump to prevent any contamination of water sources.
Each pit will be 1 x 1 meter, and 2 meters deep, and will have a 10-centimeter floor of thick mud at the bottom to help prevent seepage.
Families will add trash in 40-centimeter piles, then dump 30 centimeters of compacted dirt on top, moving in layers until the pit is full. The final layer of compacted dirt will be 20-30 centimeters above ground level to seal the trash pit. The tin sheeting and plastic will then be used for a freshly dug new trash pit located at least 60 centimeters away from the first pit.
The families will learn about compost piles for their organic trash, creating a more concentrated fertilizer for use in their fields that won't attract animals the way raw food waste does. The community is also working to organize a recycling program. There is now a "buyer" in urban Tacabamba that will pay for sacks of plastic bottles, old tires, used batteries, and scrap metal, and regular community pickups will be arranged. Families will be able to recycle and help the environment, earn a bit of money, and make their trash pits last longer (not fill as quickly) at the same time.
The program is going to include consciousness-building among local children to help change the community norm of throwing trash on the ground instead of in an appropriate container or waste site. Both the primary school and the kindergarten are included in the budget for the project and will have their own trash pits for students' trash.
The community members themselves will provide the manual labor to dig the 64 trash pits. The municipal government of Tacabamba will provide truck transportation of the materials needed to cover the trash pits between the urban center and the community of Solugan.
Appropriate Projects funds will be used to buy the tin sheeting and plastic.
This project is part of a comprehensive program of hygiene education and the construction of sanitation infrastructure, including hand-washing stations, clean water storage recipients, animal corals, and proper latrines, managed by a leadership committee of five community members elected by their peers.
Project Impact
231 individuals (62 families) will benefit from the project.
Peace Corps Volunteer Directing Project
Laura Olsen
Comments
As part of an overall community health program, including sanitation infrastructure and education, this project will work to protect the groundwater and keep the community and the waterway clean from trash and harmful contaminants.
Dollar Amount of Project
$371.21
Donations Collected to Date
$371.21 + additional
Dollar Amount Needed
$0.00 – This project has been fully funded through the generosity of the Elmo Foundation. An additional amount of $371.21 has been contributed by Deborah Olsen, of Springfield, VA, USA, for future projects.
We encourage others to continue to donate using the Donate button below, and we will notify Peace Corps Volunteer Laura Olsen of your donation. Additional funds will be used to fund the next project by Laura and/or those of other PCVs in the country of service.
This project has been finished. To read about the conclusion of the project, CLICK HERE.