Conclusion of Sincape School Water Project – Peru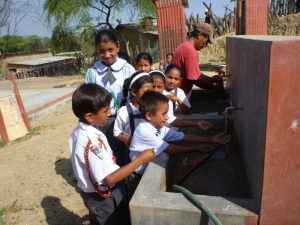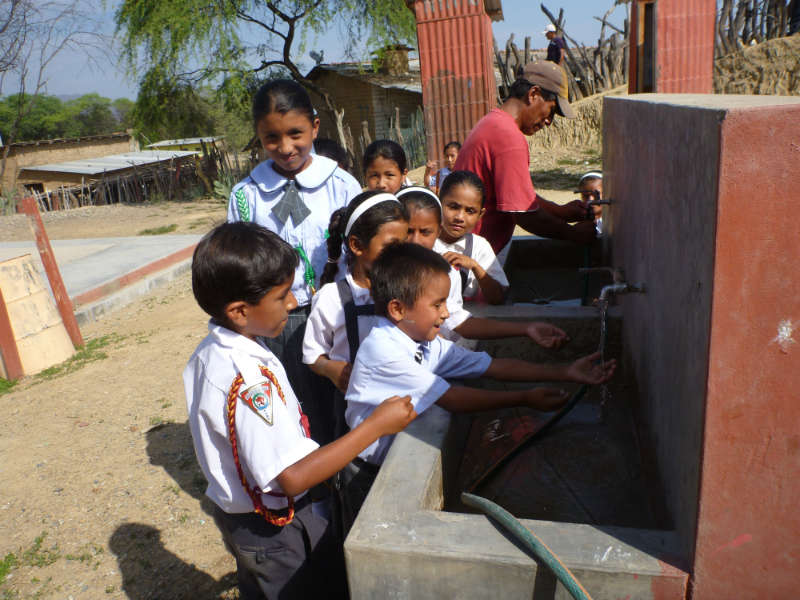 This project has been completed under the direction of Peace Corps Volunteer Kathryn Korthauer.
To read about the beginning of the project, CLICK HERE.
The project was to restore the water supply to the school running a power line from the school and replacing the broken gas pump with an electric pump.
Kathryn reports:
First one of the local fathers sent the broken water pump to be repaired. Then, the parents of students came together to have a work day in order to install the electricity to the water pump. They did this by digging holes and using local trees as posts and then having a local electrician install the cable.

Finally, we turned on the pump and went to the school and watched as the first students saw water in their school for the first time in six months.

The water came just in time for the Father's Day celebration… what a great gift for the fathers in the community.

In the end, the school now has a more sustainable and reliable source of water with which to wash hands and water plants. In the future a tree nursery and teaching garden will be started by the students.

Following is a letter of thanks, which I have translated, from the Director of the school:

Through this present letter I am writing to you to express my cordial greeting and thanks on behalf of the school board, staff, parents, and students in general of School District Number 10785 "Pedro Ruiz Gallo" in the village of Sincape in the district of Olmos.

For your generous economic donation, for the benefit of the educational population, we reiterate our eternal gratitude and appreciation for your valuable contribution.

This is an appropriate occasion to express our feelings of special consideration and personal esteem.

Sincerely,

Director Digna Luz Monja Crisanto

Thank you so much Water Charity and donors for your support. My community and I appreciate your generosity very much. Your funding has enabled us to do a project that will have positive impacts well into the future. Thank you!!
We, in turn, extend our thanks to Kathryn for completing this important project. We again convey our gratitude to Michael and Carla Boyle, the Elmo Foundation, and Kathryn's friends and family for providing the funding for this project and other projects in Peru.