Conclusion of Serey Songkhum Wat and Primary School Rainwater Catchment Project – Cambodia
This project has been completed under the direction of Peace Corps Volunteer Gregory Cera.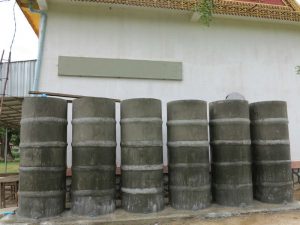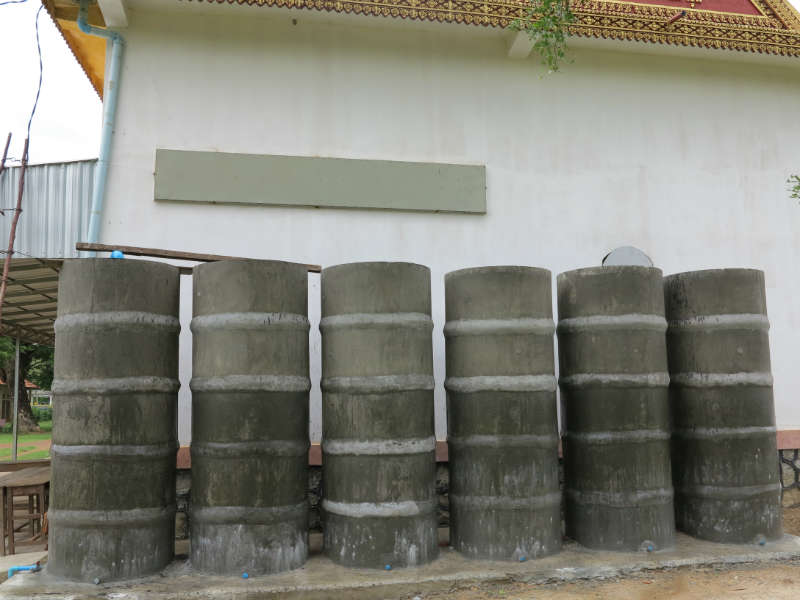 To read about the beginning of the project, CLICK HERE.
The project was to expand the water storage capacity at the school through the construction of a rainwater catchment and storage system.
Gregory reports:
The rainwater catchment project at Serey Songkhum Wat and Primary School in Russey Village, Angkor Chey District, Kampot Province, Cambodia has been completed successfully.

Completion of the project proceeded as planned under the direction of the head monk, who supervised the construction of the system.

The unskilled labor for the project, including leveling the ground for the cement foundation and hauling building materials, was performed by monks from the pagoda and local community members.

Construction of the cement foundation and concrete rings was completed by village resident, skilled laborers. They purchased all of the building materials locally. The skilled workers poured the cement foundation, set the concrete rings in place, joined the rings together with cement, sealed the interior of the storage tanks to be watertight, and set the PVC piping and gutters for the catchment system in place.

Everyone at the Wat and Primary School has been so appreciative that we have been able to support their school and pagoda, and have expressed their thanks and gratitude on numerous occasions when I have stopped by to check on the progress of the water storage system.

Many students and village residents will benefit directly from this project. All of the primary school students in Russey Village now have a reliable source of water with which they will be able to wash their hands and flush the toilets at their school, thus greatly reducing illness.

Thanks go out from the residents in Russey Village, and from me, to Water Charity, and to all of my friends and family members who supported this project and helped make this new rainwater catchment system a reality.
We are grateful to Gregory for completing this project, and again wish to thank his friends and family for providing the funding.