Conclusion of Serey Songkhum Wat and Primary School Latrine Project – Cambodia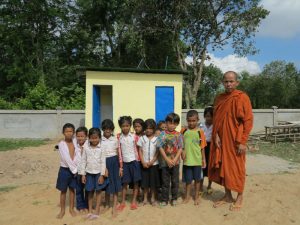 This project has been completed under the direction of Peace Corps Volunteer Gregory Cera. To read about the beginning of the project, CLICK HERE.
This project was to expand the sanitation capacity at Serey Songkhum Primary School and Pagoda by building an additional latrine building, with two more toilets, to serve the primary school students, school staff, resident monks, and visitors to the pagoda.
Gregory reports:
The latrine project at Prey Serey Songkhum Wat and Primary School in Russey Village, Angkor Chey District, Kampot Province, Cambodia has been completed successfully.

Completion of the project proceeded mostly as planned. The unskilled labor for the project, including digging the pits for the latrines, was completed by monks from the pagoda and local villagers.

Construction of the latrine building and toilet facilities was completed by resident skilled laborers from Russey Village, who used locally purchased materials.

The monks at Prey Serey Songkhum Wat and the Primary School director supervised the construction of the latrines. They have been so appreciative that we have been able to support their school and pagoda, and have expressed their thanks and gratitude on numerous occasions when I have stopped by to check on the progress of the bathrooms.

The latrines took a bit longer to finish than originally expected because work on the bathrooms stopped for two weeks during the Khmer New Year holiday in early/mid-April. Once people returned to their normal daily activities after the holiday, work continued on efficiently until the latrines were completed at the end of April.

Many students and village residents will benefit directly from this project. We have helped provide a sanitary way for school children to go to the bathroom at their school and continue their learning unhindered.

Thanks go out from the residents in Russey Village, and from me, to Water Charity, and to all of my friends and family members who supported this project and helped make these new latrine facilities a reality.
We, in turn, are grateful to Gregory for completing this project, and again express our thanks to Stephanie Folk and Gregory's other friends and family for providing the funding.