Serey Songkhum Wat and Primary School Latrine Project – Cambodia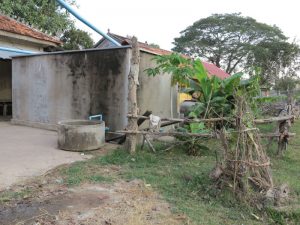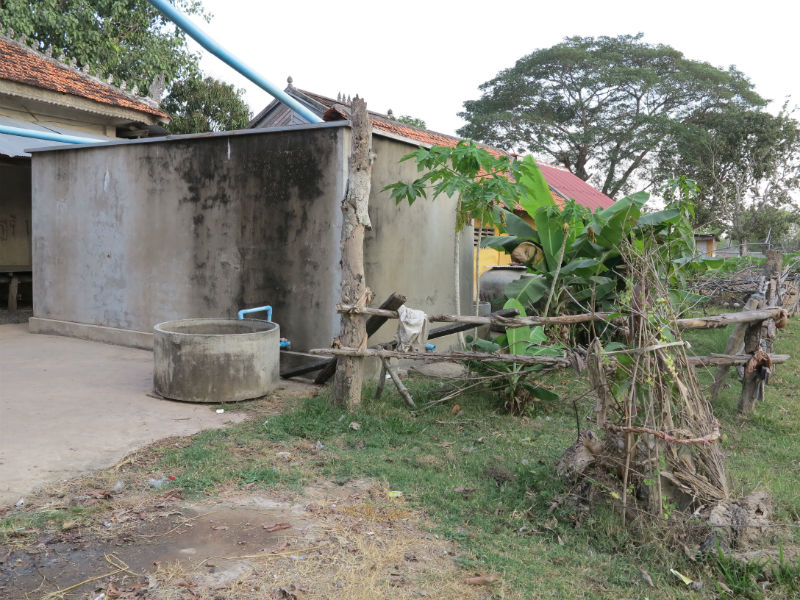 Location
Russey Village, Tani Commune, Angkor Chey District, Kampot Province, Kingdom of Cambodia
Community Description
Russey village is a small rural village in northeastern Kampot Province in Cambodia, with a population of approximately 1,000 residents. The village is located 4 kilometers east of the Angkor Chey district town of Tani, 70 kilometers northeast of the provincial town of Kampot, and 110 kilometers south of the national capital of Phnom Penh. The village is also about 4 kilometers east of Highway 31, the closest secondary national road.
The majority of families living in Russey village survive on rice farming and subsistence agriculture.
Serey Songkhum Primary School is the only primary school within Russey village. It has 8 full-time teachers, and serves 110 students in grades 1 through 6. Due to the high birth rate in Russey village, which is similar to that in the rest of Cambodia, the enrollment at Serey Songkhum Primary School is expected to increase by approximately 5% annually over the coming years.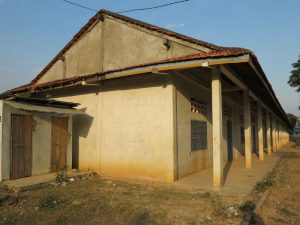 Serey Songkhum Primary School is directly adjacent to the Serey Songkhum Pagoda. Four monks reside within the pagoda. Three to four times a month, over 60 village residents go to the pagoda for religious celebrations. During major holidays and religious festivals that occur four times a year, over 500 people gather at the pagoda.
Currently, Serey Songkhum Primary School only has one latrine building with two toilets to serve the entire population at the school and pagoda. Due to the limited facilities that exist presently, and because of the increasing need for more facilities based on the expected increase in school enrollment, there is an evident need for additional bathroom facilities.
Project Description
This project is to expand the sanitation capacity at Serey Songkhum Primary School and Pagoda by building an additional latrine building, with two more toilets, to serve the primary school students, school staff, resident monks, and visitors to the pagoda.
Two new squat toilets will be located in a stand-alone building approximately 20 meters from the school. The latrine building will be constructed of bricks covered with stucco, with an aluminum roof. The toilets will be of the ventilated concrete vault type that is used throughout rural Cambodia.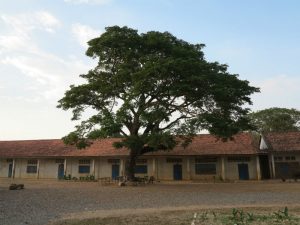 Water will primarily be provided by existing cisterns that will catch rain runoff, and will be supplemented by water pumped from a pond adjacent to the pagoda that contains water year-round.
Unskilled labor, such as digging the pits for the latrines, will be completed by monks from the pagoda, school staff, and local villagers. Construction of the latrine building and toilet facilities will be completed by resident skilled laborers, who will use local materials.
Water Charity funds will be used to pay the skilled contractors, and to purchase the building materials, that will include bricks, cement, aluminum roofing, doors, tiles, wooden beams, toilet basins, round concrete sewage tanks, pipes, and drains.
The head monk at Serey Songkhum Pagoda requested this project for the primary school and pagoda. He will oversee much of the construction, and will provide maintenance and repair in the future. The pagoda has also agreed to pay any additional amount of money necessary to complete this project.
Project Impact
Over 620 people will directly benefit from this project including 110 primary school students, 8 school staff members, 4 resident monks, and 500+ community members who attend functions at the school and pagoda.
Peace Corps Volunteer Directing Project
Gregory Cera
Comments
This is a necessary and important infrastructure project. It was requested, and is supported, by the local community. The project will help meet the need for a sanitary and healthy school environment brought about by the growing student population. The project design utilizes appropriate technology, and takes functionality, durability, and ease of maintenance into account.
Dollar Amount of Project
$555.00
Donations Collected to Date
$555.00 + additional amounts for future projects
Dollar Amount Needed
$0.00 – This project has now been fully funded through the generosity of Stephanie Folk, of Racine, WI, USA, with the help of friends and family of Peace Corps Volunteer Gregory Cera.
We encourage others to continue to donate using the Donate button below, and we will notify Gregory of your donation. Additional funds will be used to fund the next project by Gregory and/or those of other PCVs in the country of service.

This project has been finished. To read about the conclusion of the project, CLICK HERE.