School Dignity Room Project – Ethiopia
This project is made possible through the partnership of WATER CHARITY and the NATIONAL PEACE CORPS ASSOCIATION.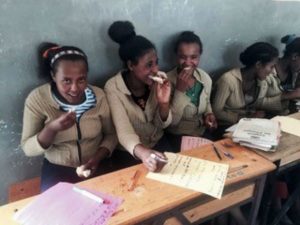 Location
This project summary has been redacted for security reasons to omit the specific project location.
Shola Gebeya, Hagare Mariam Kesem Woreda, North Shewa Zone, Amhara Region, Ethiopia
Community Description
Shola Gebeya is a small-medium-sized town approximately 110 kilometers north of Ethiopia's capital Addis Ababa. The surrounding area mainly consists of rolling hills and farmland. Depending on who you ask, the town has about 3,500-8,000 people.
The town is the main town for the woreda, so all the government/municipalities and education offices are located there. This means that the town usually has a fairly busy feel to it.
Problem Addressed
Bxxxx General Secondary and Preparatory School currently has approximately 900 female students. The female students only have access to one latrine on campus. This facility is a great distance from the classrooms and there is no running water.
Menstrual hygiene management is a major issue, and many female students simply do not come to school while they are on their period because of many factors including embarrassment, lack of sanitary facilities, lack of knowledge about menstrual hygiene, and the taboos that still surround it in their culture.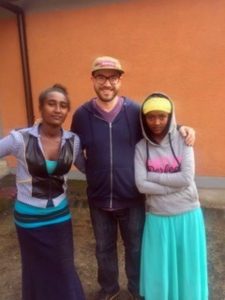 If a female student is absent every month during their period they could possibly miss upwards of 36-40 total days of school. This is approximately 25-30% of the total school days. When missing this many days, the students are falling far behind in their studies, with little chance to make up the days or subject matter.
There is also a significant need for education on these issues. Many of the problems with menstrual hygiene management are due to the lack of education. Some females simply do not know what is happening to them. They need proper training on menstrual hygiene management to understand that there is nothing wrong with having these issues, and they can still live normal lives and go to attend school at the same time.
Project Description
This project is to build a Dignity Room on campus for female students.
The building itself will be 6×4 meters, divided into two rooms. One will serve to take care of issues involving menstrual hygiene (changing/washing pads or changing clothes). The other is a room designated for gender club meetings, training and simply a room for female students to study/do homework.
The washroom will have sinks with running water. The meeting room will initially host menstrual hygiene management training such as making RUMPS (reusable menstrual pads), but then the goal is to widen the spectrum to include all types of sanitation/wash training.
The construction will take approximately 2 months from start to finish. Once it is finished, the facility will be used immediately for menstrual hygiene practice, and over time the training will be scheduled and begin to be held on a regular basis.
Water Charity funds will be used to purchase materials, and also to pay for skilled labor.
The school will contribute 25% of the funds for the project.
Project Impact
The project will benefit 900 female students and teachers at the school.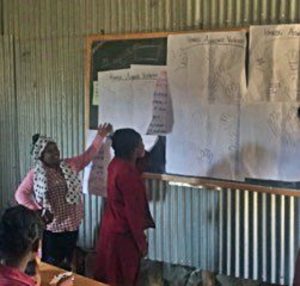 Peace Corps Volunteer Directing Project
William Dickinson
Monitoring and Maintenance
The school will add the Dignity Room to its budget to provide maintenance and upkeep of the facility and ensure that menstrual pads are kept stocked. A program for disposing of the pads will also be put in place.
The members of the gender club have also agreed to clean the facility and contribute dues each month to help with some of the supply costs. This project was the idea of the staff gender club representative at the school, and she is already planning training to implement and will oversee, all facets of the Dignity Room.
Let Girls Learn
This is a Let Girls Learn Initiative project.
Menstrual hygiene is a major problem that keeps girls from attending school in rural Ethiopia. By constructing a room for girls to practice MHM (menstrual hygiene management), they are given more of an opportunity to stay in school, and not simply miss approximately 25-30% of school because they have their period. The room will also function as a meeting place for the gender club, so the females will now have a designated place to discuss and educate themselves on gender issues involving education and empowerment.
Fundraising Target
$2,500
Funds raised in excess of the project amount will be allocated to other projects in the country.
Donations Collected to Date
$0
ADOPT THIS PROJECT BY CONTRIBUTING THE DOLLAR AMOUNT OF THE PROJECT.
Donations of any amount will be appreciated. The full amount will give you "naming rights", if that is something you would like.
Dollar Amount Needed
$2,500