Sargy Education Center Rainwater Catchment System Project – Kenya
Location
Rusinga Island, Nyanza Province, Kenya
Community Description
Lianda and Utajo communities are located on the eastern side of Rusinga Island, in Nyanza Province, in the far southwestern area of Kenya. The 2,500 inhabitants have an average life expectancy of 45 years.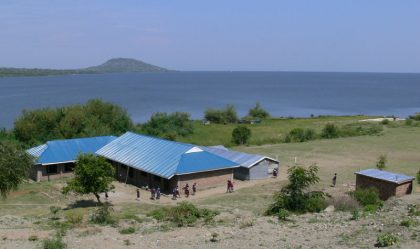 The average income per month is 3,000 Kenyan shillings (approximately US $240). Most adults do not have a secondary school education due to poverty.
Sargy Education Center is a private school formed by the Sargy community development group in 2007, and named after a woman who devoted her life to helping orphans. Children who attend the school are often total or partial orphans (with one parent still living) and pay no school fees or reduced fees. Most of the Sargy children would have no other option for early childhood education in this remote community.
There are currently 151 students (nursery to Class 4) and 8 teachers at the center. The school recently moved to a new building. Although the building is not fully completed, the community worked together to ensure that it was made ready for use by the children when the school opened in September for Term III, 2012.
Currently, only lake water is available for drinking, cooking, and other uses at the school. Lake water is known to contain parasites and to be polluted, and Peace Corps Volunteers are warned not to allow the lake water to even touch their skin.
Project Description
This project is to purchase and install a 2,500-liter water storage tank and rainwater catchment system to supplement the daily water needs of the school.
The new system will make a new lunch program possible and will provide clean water for cooking, hand washing and cleaning of dishes and cooking facilities, as well as irrigation for a garden area adjacent to the school.
Water Charity funds will be used to purchase a 2,500-liter KenTank from Mbita Town or Kisumu, as well as 27 meters of gutter, elbows and a lockable spigot for the tank.
The shortfall amount will be provided by the school community and will pay for the slab on which the tank will sit, the elbow and cover attachments, and for the salaries of workers who will install the system.
The tank will be installed adjacent to the new building. The gutter system will collect the rainfall from 252 square meters of roof surface. During a rainstorm of ½-inch accumulation, this amounts to approximately 9,000 liters of collectible rainwater. Storms of this magnitude and greater are common during the long rains of March through July.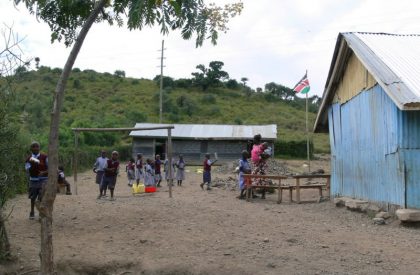 Project Impact
This project will benefit 151 primary students and 8 teachers.
Peace Corps Volunteer Directing Project
Rebecca Rowson
Comments
This is an important infrastructure project that will provide a reliable supply of water for the needs of the school.
Dollar Amount of Project
$555.00
Donations Collected to Date
$0.00
ADOPT THIS PROJECT BY CONTRIBUTING THE DOLLAR AMOUNT NEEDED BELOW
Donations of any amount will be appreciated. The full amount will give you "naming rights", if that is something you would like.
Any contributions in excess of the Dollar Amount of the Project will be allocated to other projects directed by this PCV and/or projects of other PCVs in this country.
Dollar Amount Needed
$555.00
This project has been finished. To read about the conclusion of the project, CLICK HERE.