Conclusion of Sare Aladji Well Project – Senegal
This project, to build a well in the community, has been completed under the direction of Peace Corps Volunteer Lindsay Swisher.
To read about the beginning of the project, CLICK HERE.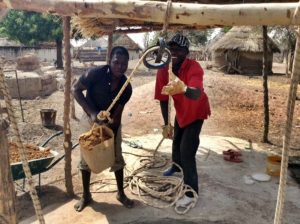 Lindsay reports as follows:
The project was to build a new, cement-lined and covered well for the village of Sare Aladji in a location accessible to many different households in the community. This project went great! It took slightly longer than anticipated, but the project leader and I were very happy with the quality of work done by the well digger & his team.

The team started digging on the 11th of January and completed the project at the end of April. The well is 35 meters deep plus an additional 2.5 meters of water. The team of diggers dug about 2 meters at a time, reinforcing the hole with iron and cementing it after each round of digging.

After the well itself was complete, we then had an iron worker create and install a cover for the well. The mason also added a water trough next to the well with some additional cement we had.

The community was extremely supportive throughout the entire project, helping out whenever needed. The chief of the village housed the lead mason for the duration of the project and also provided meals to him and his team every day. He was also my main lead on the project and assisted in purchasing materials, arranging their transport, and discussing any issues that arose with the mason. Overall, this project was a great success.

I've since moved out of my village, but I've heard many stories from various people in the community about how happy they are with this new well. Due to its new location, even more households are using this well than anticipated.

I've attached some pictures of the final well in addition to a few from various stages of the project.

Thank you for your support of this project and for working with Peace Corps volunteers!
We are grateful to Lindsay for completing this project, and again extend our thanks to the G3 Foundation and Lindsay's friends and family for supporting it.