San Pedro Nonualco Medical Clinic Project – El Salvador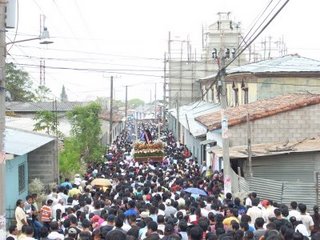 Location
Municipality of San Pedro Nonualco, Department of La Paz, El Salvador, Central America
Community Description
This project will be done in the main town of the municipality, San Pedro
Nonualco. The town is nestled in the skirt of a dormant volcano. The main subsistence of the inhabitants is in coffee, basic grain, and orange/fruit production.
The municipality consists of the main town and six communities that surround it from the heights of the volcano down to the ridges below.
The municipality sustains the Parish Medical Clinic to provide services and medicine for those for those in need. The clinic is staffed by a general practitioner and a dentist, who charge minimal fees. Medications are provided free at the site.
Project Description
This project is for the construction of two bathrooms in the medical clinic. It will be the start of, and stimulus for, a larger project to follow, as funding allows.
The larger follow-up project will include a sink in the general practitioner's consultation room and a sink in the dentist's consultation/surgery room. This will require excavating to the street to connect to the sewer and water main, and the installation of a 1,100-liter water storage tank.
Project Impact
These facilities will be used by 10,000 inhabitants of San Pedro Nonualco. Indirect and potential recipients include 25,000 inhabitants of nearby municipalities (Rosario de La Paz, Santiago Nonualco, Santa Mario Ostuma).
Peace Corps Volunteer Directing Project
Rhett Williams
Comments
This project satisfies an immediate need for bathroom facilities at the clinic. It will provide immediate benefit, but is also part of a larger project at the clinic. This will allow the community to build on successes as funding becomes available.
Dollar Amount of Project
$485.00
Donations Collected to Date
$485.00
Dollar Amount Needed
$0.00 – This project has been fully funded, through the generosity of The Soneva SLOW LIFE Trust as a part of their Clean Water Projects initiative.
We encourage others to continue to donate using the Donate button below, and we will notify Peace Corps Volunteer Rhett Williams of your donation. Additional funds will be used to fund the next project by Rhett and/or those of his counterpart PCVs in El Salvador.
This project has been finished. To read about the conclusion of the project, CLICK HERE.