San Miguel Ingenio Water Tank Project – El Salvador
This project is made possible through the partnership of WATER CHARITY and the National Peace Corps Association.

Location
San Miguel Ingenio, El Salvador
Community Description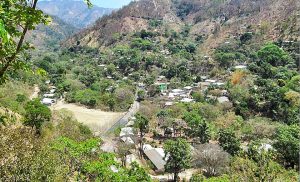 San Miguel Ingenio is located in the Northwestern part of El Salvador. It belongs to the municipality of Metapán and the Department of Santa Ana. The community is located about 40 minutes from Metapán, which is the nearest town to San Miguel Ingenio.
There is an active community organization (LA ADESCO), which meets regularly to improve community institutions and solve problems. The ADESCO is also in charge of the water system.
Problem Addressed
San Miguel Ingenio only has one water tank for their entire community. A 15,750-gallon cement tank sits above the community on a mountain, fed by a nearby mountain stream.
The community has noticed that the tank is starting to deteriorate on the outside. Moss is starting to grow and there are watermarks that are slowly deteriorating the cement foundation. The community organization is committed to preserving the water supply and believes that the tank can be protected from this damage.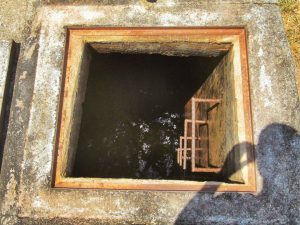 Project Description
The project shall be to clean, smooth, seal, and apply waterproof paint on the water tank in such a way as to prevent it from deteriorating, and ensure that it will last for many years to come.
The community contribution will be buying all the necessary materials to clean and prepare the tank. Community members will scrape off the moss and use detergents to clean the tank. The community will also provide all the labor to paint the tank and ensure that the paint covers the tank properly with two coats. Water Charity is supplying the town with funds for the paint, paintbrushes, and other incidentals.
Project Impact
1500 people live in the village and use this water supply for everything.
Peace Corps Volunteer Directing Project
Maureen Mitchell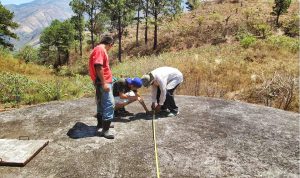 Monitoring and Maintenance
LA ADESCO will monitor the project and do follow-up visits to the tank to ensure the paint was applied properly. Maureen will oversee the project, and she (or the current PCV stationed there) will see to it that the tank is kept up and functional.
Dollar Amount of Project
$500
Donations Collected to Date
$500
Dollar Amount Needed
$0 = This project has now been fully funded.
The Peace Corps Volunteer was evacuated from the country for security reasons and was not able to implement the project. Donations for this project were re-allocated to other projects.