Sam Elementary School Bathroom Projects – Gabon
This project is made possible through the partnership of WATER CHARITY and the NATIONAL PEACE CORPS ASSOCIATION.

Community Description
The village of Sam is located in the province of Woleu-Ntem in the northeast of Gabon. With roughly 500 inhabitants, the village lies at a crossroads heading to three larger towns, the closest of which is over an hour away on a poorly maintained dirt roads. Another road at the intersection, now overgrown, used to lead to Equatorial Guinea which is only 10 kilometers away. Sam lies in the full tropical rain forest with two rainy seasons from September – December and from February to May.
There are two elementary schools in the village, one in the center and another on the outskirts that serves a neighboring village as well. The small town center has 3-4 shops that sell sundries, 3 bars, a police station and a soccer field. Sam is the seat for a sous-prefeture (county district) and has a cell phone tower with a generator that runs in the evenings. There is a stream running through the village and two wells where people walk to get their water every day.
Peace Corps volunteers originally built the school on the outskirts of town in 1965, and eight Encore de la Paix (Encore) volunteers returned in 2016 to rehabilitate the Sam school on the outskirts of the village, working side-by-side with villagers to put on a new roof, add new windows and refurbish the three vacant teachers' houses. There were three successive Peace Corps volunteers in the 1990s who completed fisheries projects, but the fish ponds are now neglected.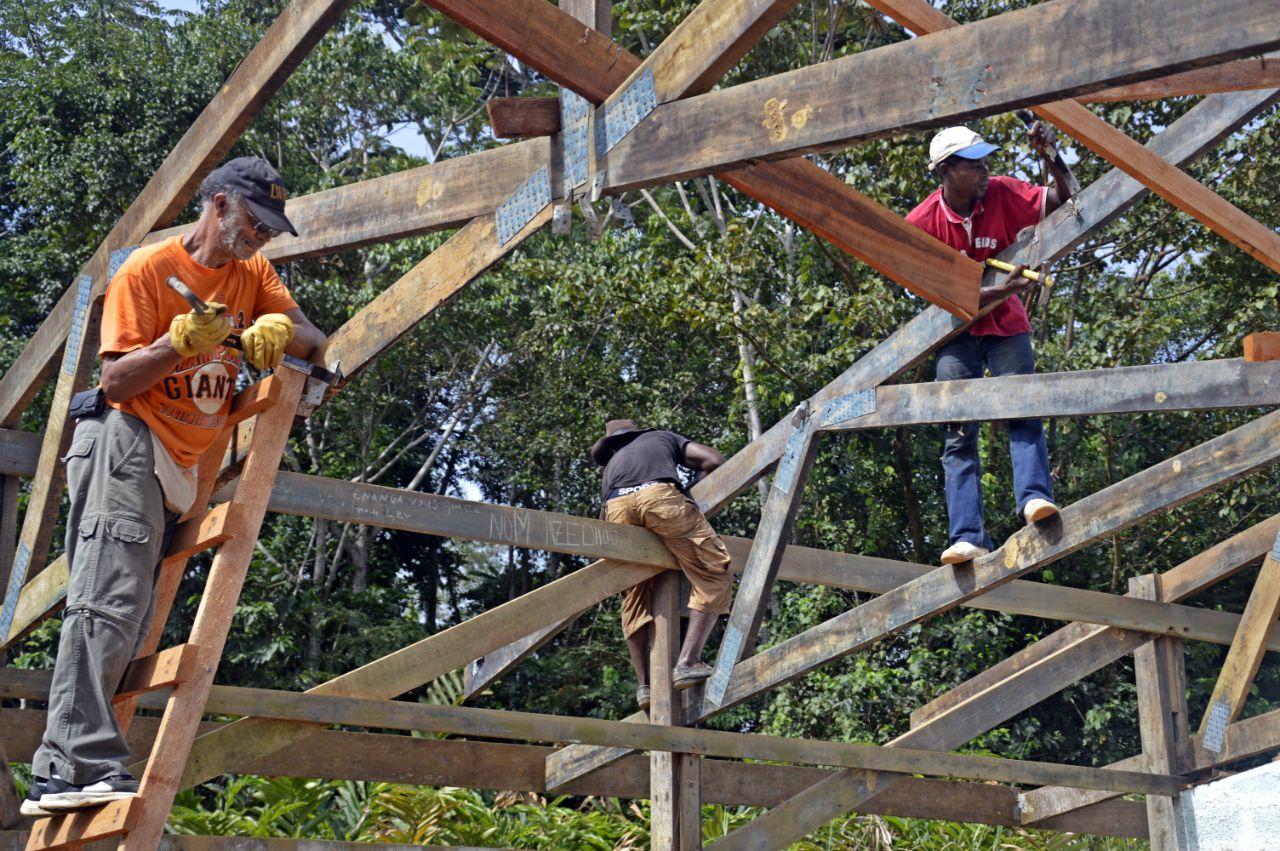 Problem Addressed
Water and sanitation remain a challenge for community residents in Sam. They spend an inordinate amount of time and effort procuring adequate clean water, and waterborne pathogens are endemic.
The two schools are in dire need of sanitary facilities. What the students and teachers use now are shockingly inadequate and unhygienic, and have no privacy. Teachers are reluctant to serve in villages where these health conditions exist. Girls drop out of school because of inadequate facilities, and parents look to send their children to larger towns because, despite the breaking up of the family, they have more reliable educational opportunities.
Few families have outdoor latrines for their houses. Most simply make use of clearings in the forest or tall grass. In the center of town, where there are stores and bars and a soccer field adjacent to one of the schools, there likewise are no common use facilities. This situation leads to exposed areas for human waste, with runoff reaching the streams where people wash and collect water for drinking and cooking.
In the six weeks Encore worked in Sam in 2016, they were made aware of illness from unsanitary conditions among the workers and their families. They took workers and their families to the nearby hospital for treatment of malaria and other diseases.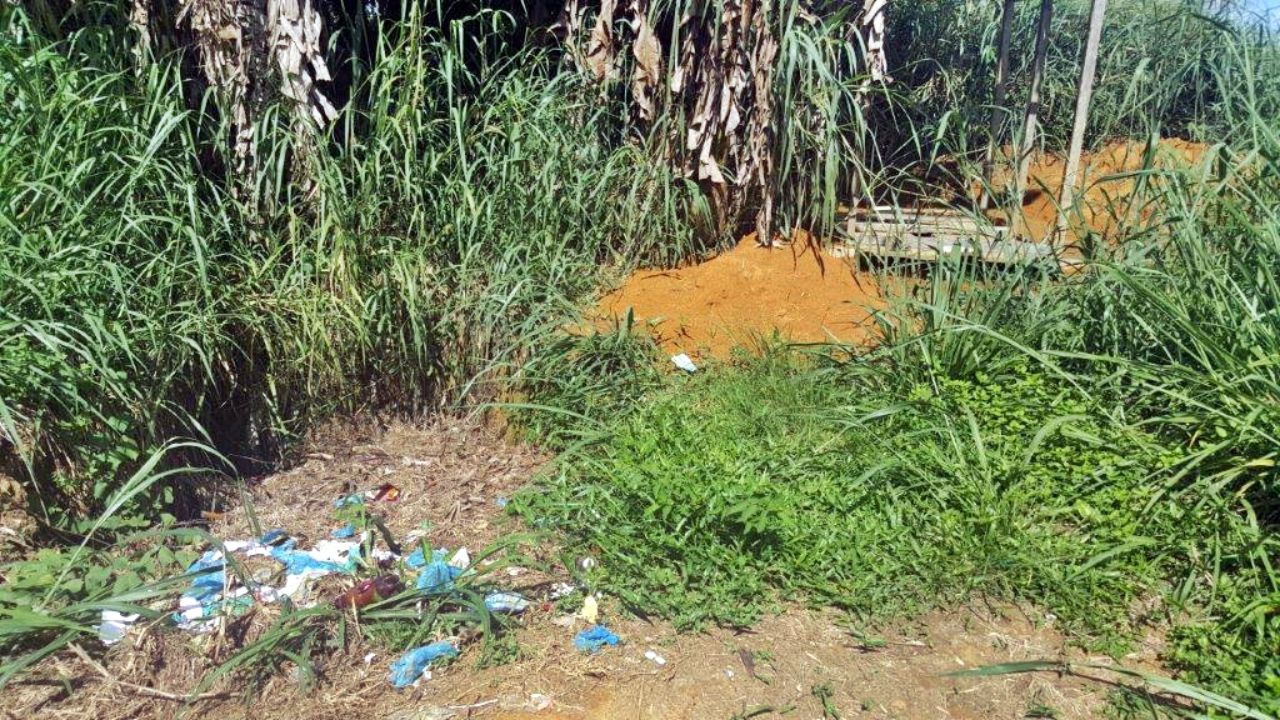 Project Description
This project is to construct two latrine blocks (collocated girls and boys) in the village of Sam.
The first, with two stalls will be adjacent to the larger primary school Encore repaired on the outskirts of Sam, a facility that also draws students from an adjacent village.
The second latrine will be located at a smaller school in the center of Sam, near the crossroads where market, restaurants, bars and a soccer field are located. This latrine will have three stalls as it will be accessible to the broad community.
Each facility is designed as a VIP (Ventilation Improved Pit) latrine, with separate stalls and entries. The design will incorporate a rain catchment system to provide water for a hand-cleaning station during the rainy season.
Based on previous experience in Gabon, Encore developed a design this year that will use local materials and labor to construct the two latrine blocks.
For each latrine, a pit two meters deep will be dug, taking advantage of the hard clay soil for pit walls. The two-stall latrine will be 2 x 2 meters, and the three stall latrine will measure 2 x 3.5 meters. A reinforced cement slab will be used to seal each pit that will have drop holes and foot rests designed to minimize fecal contamination. A second hole in the rear of the slab will house the VIP ventilation pipe that provides fly and odor control.
Shelter walls will be built on top of the slab using locally produced plank and beams, some of which remain from their 2016 school renovation project. A simple sloped aluminum roof will cap the shelter, with gutters attached to capture rainwater for the handwashing station. From the size of the pit, the materials of construction, and the number of students using the latrines, the lifetime is expected to exceed 20 years.
Encore volunteers from the U.S. will work side by side with the villagers.
In 2016, with the help of Water Charity, Encore returned to construct latrines in a village near Sam where they had the year prior renovated another school built by Peace Corps in 1965. As they discovered, returning to the same village with follow-on activities allows them to reconnect with members of the community who had become project partners and friends. It also enables them to check on progress and provide sustained support. For example, they found that the school and teacher house renovation efforts had resulted in an additional teacher assigned to the school and higher student attendance.
In March 2018, a group of 6-8 volunteers from Encore will return to Gabon to complete three projects. The first is to build the latrines, the second is to undertake a mosquito net distribution, and the third is to paint a world map mural on the wall of one school. The three of these combine their goals to engage the communities where they have already worked, to attend to issues of importance as they themselves have identified (education and health), and the third is to continue in tangible ways to give back to the country and its people who changed their lives when they were Peace Corps volunteers.
Encore is working closely with a returned volunteer who lives in the capitol and has extensive contacts in this region. He will be procuring the materials ahead of their arrival and contracting with the skilled labor. He is also the on-the-ground liaison with the village association, called Sam D'Abord (Sam First,) a civic association that consists of people living in Sam as well as a Sam diaspora that has moved away for work reasons. This group is instrumental in identifying local workers and volunteers as well as home hospitality for the Encore volunteers who pay their own way over to Gabon. They have been active in promoting a number of charitable projects for their community.
In addition, the principal Gabonese contact is a retired regional director for the Ministry of Health; he grew up in a nearby village where he owns a home and makes regular visits between the capital and Sam. In this way, he provides feedback on the projects we have completed and, at the same time, motivates and encourages the village residents to maintain and provide upkeep for the projects.
Project Impact
500 people will benefit from the project.
Returned Peace Corps Volunteer Directing Project
John Dickson, RPCV Gabon ('76-'79). John previously completed the Doumandzou Primary School Bathroom Project – Gabon.
Monitoring and Maintenance
The schools will be responsible for maintaining the facilities, ensuring that there is sufficient water, and making repairs as necessary.
The school principals will coordinate with the local health staff to evaluate the impact of the facility on the health and attendance of the students.
Let Girls Learn
This project overlaps with the goals of the former Peace Corps Let Girls Learn program. Importantly, providing female students with a clean, comfortable place to meet their sanitary needs has proven effective in helping them to stay in school.
School ages vary widely in Gabon, as students enter formal education late, interrupt their schooling for a year or two before returning. This results in a wide range of students enrolled at these primary schools. There are girls who have already reached puberty sitting alongside others who are about to enter puberty and others who are far from that stage. The older girls who have lost school years face several obstacles in continuing. Not only are they embarrassed to be sitting side by side the younger girls, but the lack of facilities causes them to lose even more school.
However, new sanitary facilities can make it easier on them to continue, and they can even be enlisted to discuss sanitary practices with the younger girls. The privacy that female students currently lack, and the sanitary wash station will enable the girls who sometimes have to walk up to 2 kilometers to reach school to stay at school all day long.
Project Funding
This project has been funded by an anonymous donor. If you wish to contribute to future projects such as this in Gabon, please use the Donate button below.