Rwamagana School Water Project – Rwanda
Location
Rwamagana, Eastern Province, Rwanda
Community Description
Rwamagana is located in the Eastern Province of Rwanda. The majority of the population farm, many subsistence. The Eastern Province has very high rates of intestinal and waterborne illnesses, many of which are Neglected Tropical Diseases.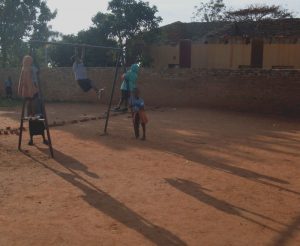 Excel Bilingual Nursery and Primary School is committed to preparing its students for the future through a challenging and stimulating curriculum. The school posits that a greater understanding of the world and fluency in English are two keys to success in the emerging East African Community. Excel also provides primary education to about 60 orphans and vulnerable children (OVC), free of charge.
The school struggles with water access year round, but it becomes more of a pressing need during the dry seasons. They currently have no system for collecting or storing water.
Project Description
This project is to install a 2,000-liter rainwater collection and storage system for Excel Bilingual Nursery and Primary School. The rainwater collection system will be attached to the Nursery. This will help to provide a consistent water source for the school and staff.
Project funding will be used to purchase the plastic storage tank and materials. Skilled laborers will construct a proper base for the tank.
Age-appropriate lesson plans on sanitation, hygiene, water use and conservation are being integrated into the school's curriculum. The staff will also be trained on proper water treatment, hygiene and maintenance of the system.
Project Impact
250 students and staff will directly benefit from the project.
Peace Corps Volunteer Directing Project
Malcolm Cunningham
Comments
This project represents the appropriate technology for bringing water to the school. It is implemented and sourced locally, and includes the necessary educational component to ensure sustainability.
Dollar Amount of Project
$500.00
Donations Collected to Date
$500.00
Dollar Amount Needed
$0.00 – This project has been fully funded through the generosity of the Elmo Foundation.
We encourage others to continue to donate using the Donate button below, and we will notify Peace Corps Volunteer Malcolm Cunningham of your donation. Additional funds will be used to fund the next project by him and/or those of other PCVs in the country of service.

This project has been finished. To read about the conclusion of the project, CLICK HERE.