Rurrenabaque Filter Project – Bolivia
Location
Rurrenabaque, Beni, Bolivia
Community Description
Rurrenabaque, or "Rurre", as it is known locally is a sleepy town situated on the eastern edge of the Andes mountains and serves as a gateway (socially and ecologically) to the vast Amazonian basin.
The town of Rurre has about 15,000 inhabitants, but it feels smaller than that. Surrounding communities are made up of Chimane, Mosetene and Esse Eje Indians. The region has also seen an influx of Quechua and Aymara migrants from the highlands in search of work in the mines and agricultural fields of the lowland La Paz and Beni departments.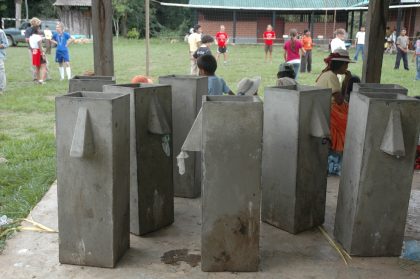 Project Description
This project is to build 20+ bio-sand water filters and transport them to recipient communities.
The project is part of a wider project being carried out by the Rio Beni Health Project, in cooperation with Where Be Dragons, which is based in Sorata, La Paz.
The Rio Beni Health Project serves over 40 communities in the Rurrenabaque area. A major focus of the work is in securing access to safe drinking water for these isolated, largely indigenous communities. The organization also operates a clinic in Rurrenabaque that serves both the population of Rurre itself as well as patients from surrounding communities.
The design for the filters was pioneered in the area just a few years ago, after some volunteers learned of the success of these filters in the Caribbean region. Noting that the climate and natural resources were similar, the biosand filters were introduced in Rurre in 2006 with great success.
The materials, consisting mostly of concrete and sand, are cheap and locally available. The maintenance of the filters is relatively simple.
Monthly visits to recipient communities by the Rio Beni Health Team will help to ensure proper care. Further, most of the forty communities served by the larger program have resident Health Promoters who are trained by the Health Project to maintain the water filters and do educational outreach regarding a variety of health issues.
Project Impact
The project will give clean water to 20+ families for many years.
Peace Corps Volunteer Directing Project
This project will be led by Helen Rortvedt, a Returned Peace Corps Volunteer. Helen served as a PCV in Bolivia until all PCVs were evacuated from that country in September, 2008. Helen currently works as an instructor with Where There Be Dragons.
Comments
This project is part of a coordinated and integrated public health effort. It uses a technology suited for, and extensively used in, the region. It includes follow-up and evaluation, ensuring sustainability.
Returned Peace Corps Volunteer Helen Rortvedt is to be commended and thanked for extending the Appropriate Projects concept to include RPCVs, who presently are about 200,000 in number.
Dollar Amount of Project
$500.00
Donations Collected to Date
$500.00
Dollar Amount Needed
$0.00 – This project has now been fully funded through the generosity of the Elmo Foundation with the help of friends and family of Peace Corps Volunteer Helen Rortvedt.
We encourage others to continue to donate using the Donate button below, and we will notify Helen of your donation. Additional funds will be used to fund the next project by her and/or those of other PCVs in the country of service.
This project has been completed. To read about the conclusion of the project, CLICK HERE.