Conclusion of Ranchito de los Peralta Water System Project – Dominican Republic
We finished the Ranchito de Los Peralta Water System Project – Dominican Republic under the direction of Peace Corps Volunteer Rivkah Cohen. To read about the beginning of the project, CLICK HERE.
The project was designed to drill a well, install an electric pump, and build a storage tank.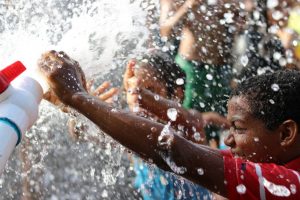 Rivkah reports as follows:
This project brought running, filtered water to 99 homes in a community which previously gathered water from the local river. The project involved drilling a well, constructing a 12,000-gallon tank, installing a new electrical pole and transformer, digging the trenches and building the towers for the pipes to reach over 7 km of road, and across 3 river crossings. The construction took 7 months, with work brigades ranging from as little as 4 to as many as 30 men a day. Now, when there is electricity (about 4 hours a day) there is running, potable water in every home.

Water hygiene and conservation education was also a component of this project. The health promoter group Hogares Saludables was trained in WASH strategies and have partnered with the local primary school to lead these classes. The Water Committee allocated funds to build a 3-compartment hand-washing station and storage tank system in the school.

The project was well received by the community, as shown by the following quotes:

Roberto Ramos Cuesto: "Lidia le dijo a Damaris que cuando ella estaba bañandose de bajo de la llave no se da por nadie se siente feliz" Roberto Ramos Cuesto: "Lidia told Damaris that when she bathes underneath the faucet she doesn't leave any wáter for anyone she is so happy"

Francisca: "Conchale, pero la gente aquí son mal degradecidos que no quieren pagar la mensualidad de cien pesos y yo que soy una doña que no tengo nada, y voy a pagar los cien pesos hasta más que haga que pagar. Cuando yo veo la llave que está tirando esa agua, es agua tan limpia veo la gloria de dios que no tengo que andar por los vecinos cogiendo esta agua prestada, o ir al rio a buscar de esos termos de agua al hombro" Francisca: "Conchale people are unappreciative that they don't want to pay the monthly quota of $.45 cents (USD), and I, a woman that doesn't have anything, I will pay even more than that. When I see the faucet that is throwing this wáter, such clean wáter I see G-d's Glory, that I don't have to go over to the neighbor's taking borrowed wáter, or go to the river to carry the wáter on my back.

This project fought to include homes that were not included in the initial design, fought for equal work and fair pay amongst all participants, and fought to reach even the most marginalized in the community. The Water Committee demonstrated true leadership, sacrificing at times, health and personal obligations, facing criticism and disbelief in order to see the project completed. Despite its obstacles this project was community founded, in the long run, not dependent on any one governmental entity or NGO. The project success is attributed to the coordination, network and knowledge of the 10-member water committee.
We are grateful to Rivkah for completing this excellent project.