Primary School #2 of Donaye-Taredji Latrine Project – Senegal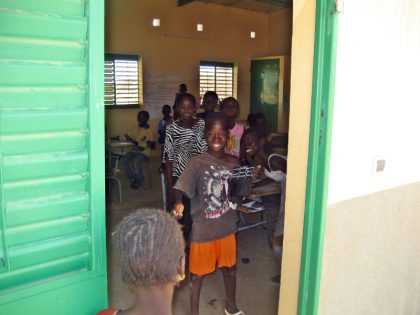 Location
Village of Donaye-Taredji, Rural Community of Guede Village, Department of Podor, Region of Saint-Louis, Senegal
Community Description
Donaye-Taredji is a rapidly growing village at the intersection of two major roadways. Most of the inhabitants arrived in 1999, when a flood destroyed their former village. Since then, they have organized the construction of a health post, middle school, and locally-run bank. Most people farm for a living (mainly okra, rice, onions, and tomatoes), but education and village development are highly valued.
Primary School #2 was recently built to accommodate the growing number of students in Donaye-Taredji. It is located on the far outskirts of town in anticipation of village expansion. It has no latrines or access to clean water of its own, so students must walk far, either into town or into the bush, to relieve themselves.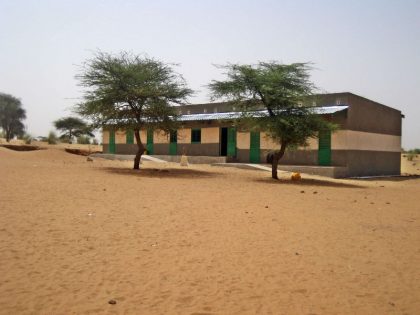 Project Description
This project is to build two simple latrines at the school.
The latrines will be 3 m by 1.85 m for each stall. The building will be constructed of cement bricks and rebar, with a zinc roof. The septic "tank" will be cement-lined and -covered, with PVC piping for ventilation. The tank will be offset from the structure, so that a new tank can be built after the first is full without moving the building.
An experienced local mason will do the work under the direction of the school director.
Appropriate Projects funds will be used to purchase materials, including cement, piping, and rebar, and to pay the mason.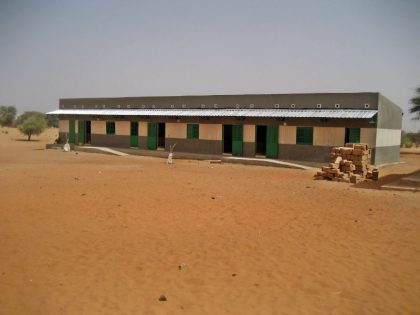 The children will be responsible for cleaning the latrine using water obtained from a neighbor's spigot and stored in a barrel in the courtyard.
Project Impact
289 people will benefit from the project, including 157 female and 123 male primary school students, and 2 female and 7 male primary school teachers.
Peace Corps Volunteer Directing Project
Jonathan Larson
Comments
This is a critical project for the health and well-being of the primary school students and teachers. It is well-planned, with sustainability in mind.
Dollar Amount of Project
$555.00
Donations Collected to Date
$555.00
Dollar Amount Needed
$0.00 – This project has now been fully funded through the generosity of The Andando Foundation.
We encourage others to continue to donate using the Donate button below, and we will notify Peace Corps Volunteer Jonathan Larson of your donation. Additional funds will be used to fund the next project by Jonathan and/or those of other PCVs in the country.
This project has been finished. To read about the conclusion of the project, CLICK HERE.