Poroto Water Project – Peru
Location
District of Poroto, Department of La Libertad, Peru
Community Description
In the department of La Libertad, 45 km. east of Trujillo, lies the district of Poroto. There are three population centers with up to 1,000 people, and more than 30 outlying communities down to populations of dozens, for a total of less than 4,000 people.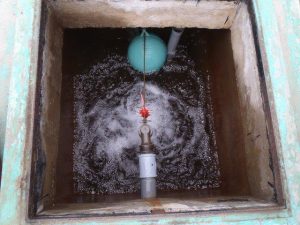 Poroto is primarily agricultural, with pineapple as the common crop, taking advantage of perpetually warm climate and irrigation from the Rio Moche.
Seventeen different gravity-fed water systems, all drawn from protected springs, provide for household needs, all managed by community-led water committees, or juntas de agua.
Most communities operate on minimal funds with monthly fees of $0.40 to $0.80 per family. Capital projects are hard to fund on meager budgets and the municipality can only manage to get a few executed each year.
Chlorination of reservoirs is the best large-scale solution to providing potable water, but technical challenges and cost of equipment have prevented any system from providing reliable and regular treatment.
Programs are in place to sell chlorine and chlorination equipment at cost out of the local health center. Excess chlorination is a significant issue, as most people would prefer to not chlorinate at all because of an odor in the water.
Problem Addressed
Water testing has shown high fecal coliform and bacteria levels in sources, reservoirs, and from household taps. The Ministry of Health has deemed 14 systems unfit for human consumption.
There have been efforts over the years by NGOs and other organizations to promote household treatment of drinking water. Still, people don't perceive the problem, despite parasite testing in schools showing up to 50% of children infected.
The technical challenge is that most reservoirs overflow at night for lack of drawdown from consumption. This overflow carries excess chlorine with it, driving up chlorine costs.
Project Description
This project is to improve the water systems of six communities by installing industrial float vales in each to control the chlorine content and usage.
The water systems are located in the communities of Mochal, Con Con, Cushmún, Mishiriuanga, San Antonio, and Pachillar
Water Charity funds will pay for the valves.
The work will be done by local skilled technicians, with assistance as necessary from the communities.
Training is being provided to operators to properly use and service the equipment so that a healthy but tolerable level of chlorine can be maintained. Included in this is training on measuring residual chlorine levels and how to adjust dosage.
Project Impact
1,300 people in six communities, including students in 3 schools, will benefit from the project.
Peace Corps Volunteer Directing Project
Read McCulloch
Comments
Once the overflow issue is resolved, these systems will be able to maintain effective and continuous chlorination. This will result in benefits of health, safety, and taste, as well as financial benefits from money saved in the purchase of chlorine.
Dollar Amount of Project
$555.00
Donations Collected to Date
$555.00
Dollar Amount Needed
$0.00 – This project has been fully funded through the generosity of the Christopher Lin, of Diamond Bar, CA, USA.
We encourage others to continue to donate using the Donate button below, and we will notify Peace Corps Volunteer Read McCulloch of your donation. Additional funds will be used to fund the next project by Read and/or those of other PCVs in the country of service.
This project has been finished. To read about the conclusion of the project, CLICK HERE.