Pondok Pesantren Durrotut Tholibin Sanitation Project – Indonesia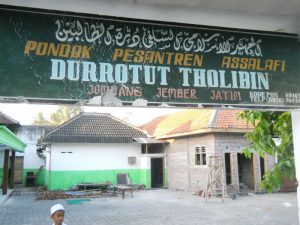 Location
Jombang Village, Jember District, East Java Province, Indonesia
Community Description
Jember, located along the South coast of Java, is the 3rd largest region in the East Java province of Indonesia.
Jombang is a rural village in Jember, with a population of approximately 10,000 residents. The village is located 45 km southwest from the regional capital, Jember, and 180 km southeast from the provincial capital, Surabaya.
The major industry in Jember is agriculture including sugar cane, rice, tobacco, rubber, and fishing. The majority of residents in Jombang farm rice and sugar cane.
Pondok Pesantren Durrotut Tholibin, located in the residential area of Jombang, is one of the many Islamic boarding schools that serve the community. Currently, there are 229 students living at the school.
Problem Addressed
Of Indonesia's nearly 250 million citizens, 100 million lack access to proper sanitation. Poor sanitation causes at least 120 million disease episodes and 50,000 premature deaths, with an economic impact of $6.3 billion, annually.
Annual flooding, which causes contamination, along with improper disposal of waste, are the most frequent problems that arise in rural areas and lead to fecal-borne illnesses such as typhoid and diarrhea.
There have been international and domestic sanitation efforts throughout Indonesia, although none have reached the Jombang village thus far.
The Jombang puskesmas, a public health clinic, reports that during the annual rain season Pondok Pesantren Durrotut Tholibin experiences flooding resulting in students and neighbors contracting the disease due to contact with contaminated water.
Currently, waste at the school is drained into a canal that runs alongside a residential road.
Project Description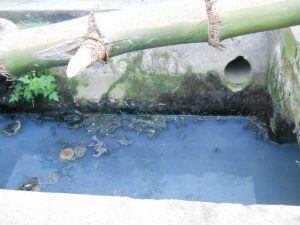 This project is to build a septic tank for the handling of waste at the boarding school.
The septic tank will be built where waste is currently being drained, so there will be no need to change or construct drainage pipes.
The septic tank will be 1.5 meters wide and deep with a length of 2.5 meters. There will be an inlet, outlet, and exhaust valve, with 2 retaining walls inside the tank. The retaining walls will filter solid waste, allowing mostly liquid waste to leave the tank.
The project is to be finished in 7 days. The first two days will be preparing the site for the septic tank. Preparations include digging a 4 x 3-meter hole, as well as laying gravel, sand, and iron braces to hold the tank in place.
The following days will be spent building the tank, including pouring concrete and installing the inlet, outlet, and exhaust valves. When all this is finished, the hole will be filled and the site will be cleaned up.
Two trained masons will be present on-site for the pouring of concrete. Community members, as well as students, are volunteering to reduce labor costs.
80% of all water charity funds will go-to materials, including sand, gravel, PVC pipe and fittings, with the remaining 20% spent on skilled labor.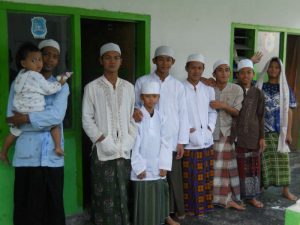 Project Impact
This project will directly benefit the 229 students of the boarding house, as well as 30 teachers. The neighboring villagers will receive indirect benefits due to the proper disposal of waste.
Peace Corps Volunteer Directing Project
Blake M. Ingram
Comments
This is an important sanitation project for the school. It will result in a reduction of illness in addition to environmental and esthetic improvement.
Dollar Amount of Project
$555.00
Donations Collected to Date
$555.00
Dollar Amount Needed
$0 – This project has been fully funded. Additional donations will go toward other projects in Indonesia.

This project has been finished. To read about the conclusion of the project, CLICK HERE.