Pondala Community Garden Well – Senegal
Location
Pondala, Saraya, Kédougou, Sénégal
Community Description
Pondala is a small village of approximately 420 people located in the southeast part of the country on the main road between the regional capitol of Kedougou and the Mali border. The people of Pondala are mainly subsistence farmers.
Although the village is on the main transit route, it is fairly cut off from the economic benefits of the major cities on either side and it's difficult to transport fresh produce in from other villages. The main source of income, although not substantial, is cotton farming. Some villagers will also travel to artisanal mining sites during the dry season to look for gold.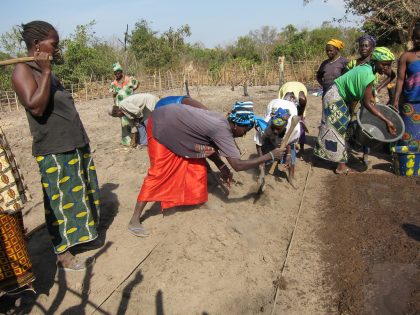 Project Description
This project is to build a well for the irrigation of the Pondala community garden.
The well will be placed on the outer edge of the current women's garden plot, which is located about one kilometer outside of the main village.
The garden was established last year, but failed due to lack of a reliable water source within a reasonable distance. The three Pondala women's groups cleared a large plot of land, constructed a fence, and dug garden beds, demonstrating their interest and commitment to the project.
A well digger from Bembou, a neighboring community, will come to do the work in Pondala. He will dig an 80-centimeter-wide well to a depth of about 7-8 meters, depending on the current water level. It will be lined using cement molds and rebar.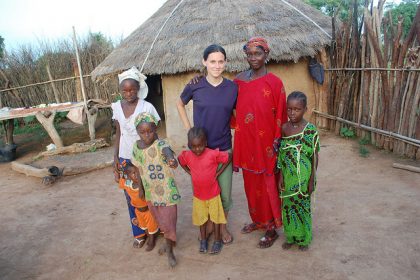 The project funds will go towards paying the well digger for his work and covering the costs of most of the materials, but the village has also agreed to contribute some cement and rebar. They will also provide housing, food, and tea for the well digger during the duration of his work.
Project Impact
The project will benefit all 420 people in Pondala.
Peace Corps Volunteer Directing Project
Kate Carroll
Comments
This project will provide widespread benefits to the entire community. It has the solid support of the women who work at the community garden. It can be expected to result in improved nutrition for all of the families, and may provide some economic benefit to the participants through the sale of produce.
Dollar Amount of Project
$500.00
Donations Collected to Date
$500.00
Dollar Amount Needed
$0.00 – This project has been fully funded, through the generosity of the Elmo Foundation.
We encourage others to continue to donate using the Donate button below, and we will notify the Peace Corps Volunteer of your donation. Additional funds will be used to fund the next project by the PCV and/or those of other PCVs in the country of service.
This project has been finished. To read about the conclusion of the project, CLICK HERE.