Pinellopi Pirro School Bathroom and Water Project – Albania
This project is made possible through the partnership of Water Charity and the National Peace Corps Association.


This is a project under the LET GIRLS LEARN Program, a collaboration of First Lady Michelle Obama and the Peace Corps to expand access to education for adolescent girls around the world!
Location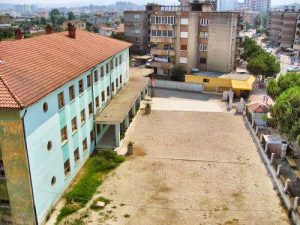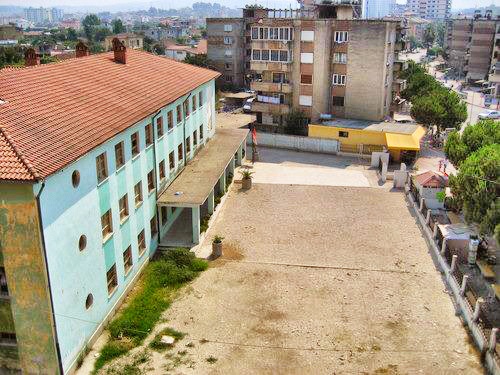 Pinellopi Piro School, Fier, Albania
Community Description
This is a 9 year school with 900 students and 40 teachers. There is a lack of sanitary facilities to meet the needs of the students.
Problem Addressed
The bathrooms need a complete refurbishment. The current facilities are substandard, and without running water.
Pinellopi Piro is a 9-year (nente vjecare) school in Fier, Albania that needs complete renovation of its toilets. They have been repainting the school and discovered that the floors of the bathroom and the sewage pipes have disintegrated, so their need is even greater than that of comparable schools build during the Communist era.
Project Description
The project will install 12 Turkish toilets, 8 hand basins, and 6 aluminum secure doors, and refurbish 8 wooden doors to make them secure.
All toilets and hand basins will be plumbed to provide running water. A water deposition the roof of the school will be repaired to allow for a supply of water outside of the hours of their water schedule.
Water Charity funds will pay for the materials and skilled labor.
Project Impact
More than 1,000 people will benefit from the project.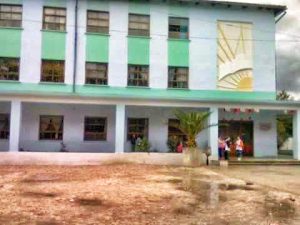 Peace Corps Volunteer Directing Project
Graham Anderson
Monitoring and Maintenance
The school will be responsible for care and maintenance.
Comments
This project is part of the LET GIRLS LEARN program sponsored by FLOTUS Michelle Obama. It is intended to have a positive effect on keeping girls in school after they reach adolescence. Lack of clean facilities is a leading cause of women dropping out of school. Water Charity is proud to have sponsored the very first LGL project and continues to be a leading contributor to the program, as evidenced by projects like this one.
Dollar Amount of Project
$2,600
Donations Collected to Date
$0
Dollar Amount Needed
$2,600

ADOPT THIS PROJECT BY CONTRIBUTING THE DOLLAR AMOUNT OF THE PROJECT
Donations of any amount will be appreciated. The full amount will allow you a posted dedication if that is something you would like.
This project has been completed. To read about the conclusion, CLICK HERE.