Peace Corps Permagarden Training – Swaziland
This project is made possible through the partnership of WATER CHARITY and the NATIONAL PEACE CORPS ASSOCIATION.

This project has been completed.  To read about the conclusion, CLICK HERE.
The first training of our Permagarden Training Initiative – Worldwide will take place in November 2017. Peter Jensen will train Peace Corps Volunteers and staff in Swaziland with his Terra Firma Permagardens for Empowerment and Resilience course. Here is an outline of what we intend to accomplish in this monumental initiative to spread permaculture technology across the globe.
    Trainer: Peter Jensen, Agroecology and Permagarden Training Specialist
What:  Permagarden Creation and Outreach Training
Where: Manzini, Swaziland
When: November 15-21, 2017
Who: 36 Peace Corps Swaziland Volunteers and Staff
Terra Firma Permagardens are family-oriented, nutrition-focused, climate-smart, organic gardens. They serve as the missing link between seasonal agricultural production and the daily, nutrient-dense, food consumption needs of marginalized rural, urban and peri-urban families.
In order to achieve daily nutrition security of mother, child, and extended family, agricultural techniques must be 'climate-smart'. This concept forms the key pillars of any Permagarden Training: Adaptation, Mitigation, and Intensification. These goals have a number of critical action steps which are small and doable following the Rule of CLOSE so as to achieve attitude and eventual behavior change amongst those directly trained and those who shall be trained within the community outreach program that will follow the training via the PCVs and their village counterparts. These actions from the basis of the Terra Firma Method: Assess, Capture, Protect, Produce, Manage.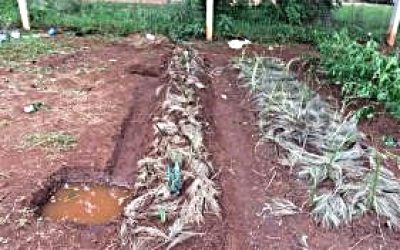 All 'Terra Firma' actions are close to the home, locally sourced, organic, small and easy so as to achieve a "53-week" harvest cycle by even the most marginalized individuals. This is achieved through the rational, step-by-step, water management strategy whereby the subsoil becomes the cistern. The Six Steps of Successful Water Management form a further key theme throughout this practical training: Stop, Slow, Sink, Spread, Save and Shade. With these steps practiced, observed and maintained, the severity of both climate and climate change is mitigated for long-term landscape and nutritional resilience.
Peace Corps Swaziland will cover all local costs of the 34 participating Peace Corps Volunteers and 3 Staff. They will also provide local transport for Peter, as well as printing of the training manual and the gathering of local soil organic amendments, tools, seeds and plants necessary for successful training.
Water Charity funds will provide funds for all other costs necessary to carry out the training.
The training methodology is designed to reach resilient family-based daily nutrition security, resilient water, and landscape management, and increased maternal income.
Specific topics include compost and carbon soil food, berms and swales, and soil health and double digging.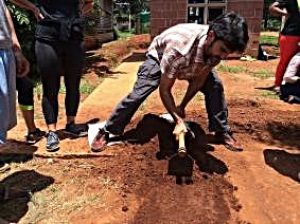 A Perma garden will be created during the training that maximizes water capture and nutrition. This will serve as a model for future projects.
An outreach plan for Peace Corps Swaziland, along with recommendations for monitoring and evaluation of outcomes and impacts, will be prepared.
PCVs will gain facilitation skills to enable them to effectively teach vulnerable family members or small groups on how to create and manage Climate-Smart, Nutrition-Focused Permagardens in Swaziland.
Although this project has been fully funded, your donation using the button below will be used for our next project.

Conclusion of Peace Corps Permagarden Training – Swaziland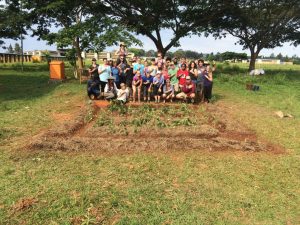 This project has been completed under the direction of Peter Jensen. To read about the start of the project, CLICK HERE.
The project was designed to train Peace Corps Volunteer and staff in Swaziland in Perma garden training and outreach.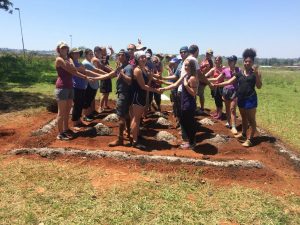 Peter reports:
I'm on my way back to Addis. The Peace Corps Swaziland Permagarden Training for 32 Youth Development and Community Health Volunteers (and 3 staff) ended on a very high note.

Volunteers proclaimed this the best, 'most practical and useful ' training of their service and are fired up and ready to bring the Terra Firma Method of climate Smart, water conserving, nutrition-focused gardens back to their respective communities by the end of this week.,

This is perfect timing to get the berms, swales, saturation holes and double dug beds in place before the rains arrive so as to enjoy maximum benefit and capture maximum attention by early adopters.
We extend our thanks to Peter for completing this important project, the first in the series.