Conclusion of Perani Secondary School Rainwater Catchment System Project – Kenya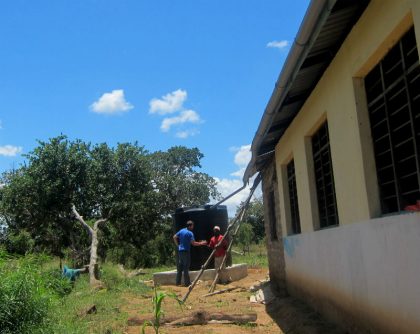 This project has been completed under the direction of Peace Corps Volunteer Jessica May-San Yu. To read about the beginning of the project, CLICK HERE.
The project was to build a rainwater catchment system on the school campus to capture to store water for drinking, sanitation, irrigation for the school's crops and tree-nursery, and selling for profit.
Jessica reports:
I am very pleased to report that the water catchment system at Perani Secondary School has been a success.

A 5,000 liter Kentank was bought and transferred from Mombasa as well as gutters, pipes, and tap system. We were able to buy top quality materials to guarantee long-lasting usage.

We hired a local fundi for a lower cost to build the foundation while the students, the school's gates-keeper, and a close friend of mine from America, Christopher Fernandez, installed the gutters free of charge. It was inspiring to see everyone work together with such teamwork.

The rainy season has slowly come, and we have already have been using the stored water to prepare lunches for students, water the newly established tree and vegetable nursery, and for drinking.

Since the completion of the water tank system, the school has cut back on buying water from a well that is an 8-minute bike ride away. The school now has the option to receive free clean water right outside its doors.
Eric Peter Simon (Form 2 Student) states:
"I am so grateful to have the tank because it benefits the Environmental Club at our school. We have been working very hard on our new nurseries and it's great to get water from the tank and not spend over an hour after school getting water. Most of the students from our school live very far away so we are very happy. I am also happy to be able to work on the project and learn how to put up gutters. I look up at the school and smile to myself saying, "I accomplished that.""
We are grateful to Jessica for the rapid completion of this excellent project, and for the help of Christopher. We again extend thanks to Jessica's friends and family for providing the funding. Jessica already has a new project underway, which we are thrilled to be able to support.