Conclusion of Perani Primary School Water Project – Kenya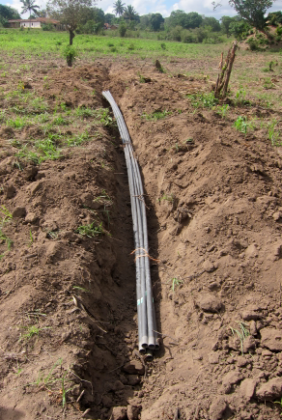 This project has been completed under the direction of Peace Corps Volunteer Jessica May-San Yu. To read about the beginning of the project, CLICK HERE.
The project was to provide water for the Perani Primary School by running a water line from the community water supply to the school.
Jessica reports:
Immediately after receiving funds, the Perani community was thrilled to get this new project started. Zuma, from the Kwale water company, bought all the materials in a couple of hours and started digging the next day. He was accompanied by two local workers.

In just two days they dug an approximately 35-meter ditch for the water pipes from the main road to the school, installed the water meter, and made sure there were no leakages throughout the system. The weather was undeniably hot, but they still continued with speed and efficiency.

In addition, the school bought the water permit and built a cement area for the water tap, and Zuma bought the water meter.

The construction of the water line went very smoothly. Zuma and his partners taught the school's staff how to check for leaks, repair small damages, and read the meter properly.

My school, neighborhood, cooking staff, and I, are immensely grateful for the successful completion of the water line. We have just started to receive water, and you can see the significant impact it has on everyone. The school is now planning to buy a hose and water tanks to store water for the harsh dry season starting in December.

Here are a couple of quotes from the school:

"I am tremendously happy to be receiving water right outside our kitchen. Now my cooking staff and I don't have to buy water and carry it 15 minutes in the hot weather. Thank you so much. We can't thank you enough for the water that will keep us alive."
– Mama Fatuma (Head cooking staff member)

"We have so much gratitude for the new water line installed at our small school. Water will enable our students to stay healthy all year long, as well as the surrounding neighborhoods. With this new addition, I am eager to build hand-washing stations near the toilets and plant a forest around our school. I want to personally thank Jessica May-San Yu and all the donors for graciously contributing to the Perani community. Thank you with all our hearts."
– Principal Mweksi

We at Water Charity are grateful to Jessica for completing this project, which will obviously have an impact on the community for years to come.
We again extend our gratitude to the family of Susan Ellen Braun for providing the funding.