Pedro Ruiz Gallo 10785 School Water Project – Peru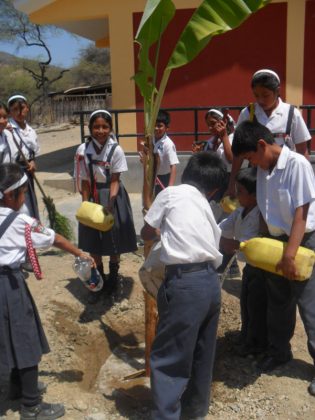 Location
Sincape, Olmos, Lambayeque, Peru
Community Description
Sincape is a small rural community making up one of the dozens of annex communities that form the town of Olmos in the northern region of the department of Lambayeque in Peru. It is a small impoverished village of about 135 families, or 600.
Classified as a dry forest, the community is blessed with access to a river, allowing it to be a thriving agricultural community, growing all types of fruits such as mangoes, bananas, sugar cane, avocados and pineapples.
The majority of homes have dirt floors and are made of adobe bricks or sticks. Most families use firewood to prepare meals.
Electricity came to Sincape in November of 2010. However, the community still lacks basic services, such as running water. Families depend on communal wells for drinking water and the local river for all cleaning necessities.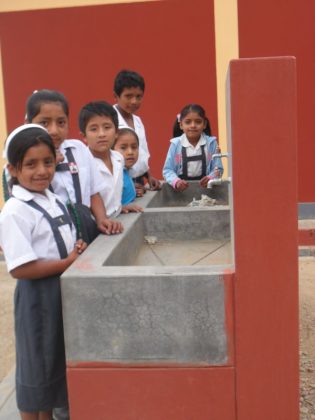 The local school, Pedro Ruiz Gallo 10785, is an educational institution for all levels of students, with over 200 students enrolled. Some students even come from over an hour away to attend this well-established school that was rebuilt less than 10 years ago.
The school is already set up with the necessary infrastructure for running water, such as piping, sinks and even bathrooms. However, none of this can be utilized due to the lack of a working motor to pump the water from a nearby well to the school.
As of now, students frequently are asked to leave their classes to carry water in gallon jugs from the river or nearby wells to the school, cutting into their free time and class time. Furthermore, hand washing and basic sanitation among students and staff is sacrificed because water is used sparingly.
Project Description
This project is to provide running water to the Pedro Ruiz Gallo 10785 School.
A new electric pump will be purchased and installed to replace a non-functioning existing gasoline pump.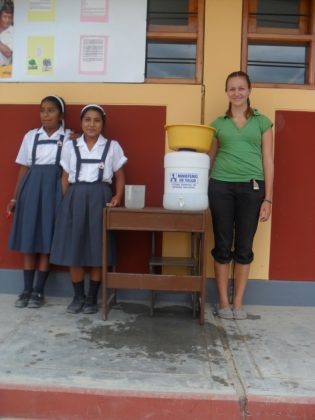 The pump will be submerged in the well, 150 meters from the school grounds. It will pump water into the school´s water tank, located at an elevated location on the grounds. Water will flow by gravity through the existing piping system in the school.
In connection with the project, water health and sanitation education will be provided for the teachers and students. This will include handwashing with soap demonstrations, the importance of saving water, and the importance of boiling water before drinking it.
Project Impact
322 people will benefit from this project, including 210 students, 12 teachers, and 100 parents.
Peace Corps Volunteer Directing Project
Carolyn Booth
Comments
Numerous hours of labor to bring water in buckets to the school each day will be eliminated. This will permit students and teachers to maximize the hours spent in the classroom.
Also, sanitation education will lead to better water and sanitation habits among students and staff that will carry over to their behaviors in the home.
This project will enable a long-term reforestation project being planned by the community and based at the school. Trees will be raised at the school, where water is available, and re-planted in the ecologically significant dry forest region.
Dollar Amount of Project
$500.00
Donations Collected to Date
$500.00
Dollar Amount Needed
$0.00 – This project has now been fully funded through the generosity of The Soneva SLOW LIFE Trust as a part of their Clean Water Projects initiative, with additional funds for future projects from friends and family of Carolyn.
We encourage others to continue to donate using the Donate button below, and we will notify Carolyn of your donation. Additional funds will be used to fund the next project by the PCV and/or other projects in the country of service.
This project has been finished. To read about the conclusion of the project, CLICK HERE.