Conclusion of Ovaka Water Catchment Project – Tonga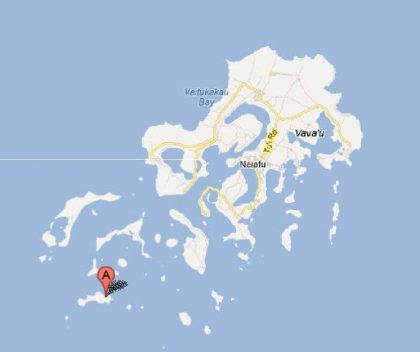 This project has been completed under the direction of Peace Corps Volunteer Scott Yurcheshen. To read about the beginning of the project, CLICK HERE.
The project was to expand the gutter system at the school to provide additional drinking water at the primary school.
Scott reports:
Tonga is a group of more than 170 islands spread over an area of the South Pacific roughly the size of Japan,

During my Peace Corps service on the remote island of Ovaka, Vava'u, I was responsible for creating and developing projects to support the community. Through various conversations with the local school's principal, I became aware of the water supply issue.

The outer island schools, without access to the main island's water supply, relied on rainwater filling up a cement tank (called a "sima vai" in the Tongan language) for the children's drinking water during the day. Unfortunately, during the dry season, these tanks became perilously low.

Tongan policy dictated that if the school's tank became empty, school would be canceled until adequate water supplies were available. During my time in Tonga, that hadn't happened, but was told that school had been canceled for a week a few years before I had arrived.

During the two dry seasons I spent in country, one could ascertain that the tank became dangerously low, and at certain times the spout was barely flowing. I also noticed that the gutters filling the water tank only encompassed roughly 25% of the roof's surface area. I decided to seek funding in order to expand the school's gutter system.

With the Water Charity funds, I traveled to the main island of Neiafu and purchased equipment from the local hardware store. Together with members of the island's Youth Group, we expanded the gutter system, enabling the water tank to fill up more quickly during heavy rains, and more importantly, save more of the sparse runoff during the dry season. I estimate that the additional equipment expanded the water catchment to roughly 75% of the school's roof.
We are grateful to Scott for completing this important project, and again wish to thank his friends and family for providing the funding.