Nyumbanitu Primary School Rainwater Catchment Project – Tanzania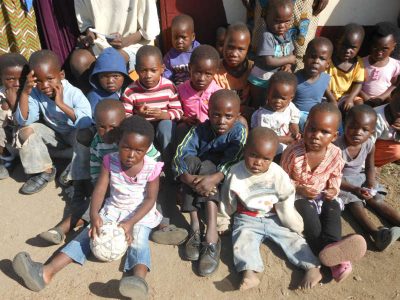 Location
Nyumbanitu, Njombe Region, Tanzania
Community Description
Nyumbanitu village has a population of 2,500 people, all of whom are to some extent farmers. Most central and northern regions in Tanzania depend on the agricultural yield from the region.
Njombe region has a very high HIV/AIDS transmission rate, one of the highest in the country. The villagers are becoming aware and proactive in supporting healthy living alternatives. Small home-based gardens are beginning to flourish.
Nyumbanitu Primary School is located in the heart of the village, reaching out to 498 students living within 4 sub-village streets. Ages range from 5-15 years old.
Students are now able to eat a mid-day meal at school, but they are responsible for performing school chores such as cleaning the school environment, fetching water for handwashing, cooking, and watering the gardens.
Problem Addressed
Much effort and time is spent fetching water, individual students carrying one bucket at a time, 7-10 minutes per trip, taking time away from studies.
The difficulty in accessing water means that there is a shortage for the daily needs of the school.
The majority of fetched water goes to watering the school gardens as well as the neighboring teachers' gardens and farm plots. There are two small cement holding tanks, unfavorably located furthest away from the school gardens.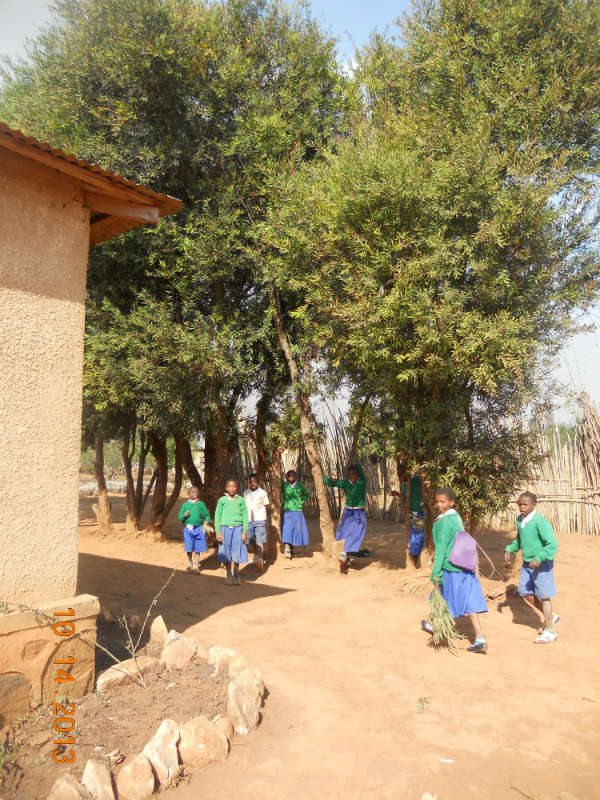 Currently, water accessibility makes it difficult to grow anything other than leafy greens on the sizable garden plots.
Project Description
This project is to build a rainwater catchment system to provide for the needs of the school.
The water will be used for handwashing at adjacent pit latrines, watering neighboring teacher farm/garden plots, and cooking the mid-day school meal.
A gutter system will be built on the main school building by local skilled laborers, assisted by volunteer community members, teachers, and students.
Two water-holding tanks will be bought locally from Njombe, 12 kilometers away, and placed centrally behind the school, closest to the gardens.
Structurally sound foundations will be built of brick and concrete for the two water tanks.
The larger tank, with a capacity of 2,000 liters, will be on an elevated platform. The smaller tank, which will hold 1,000 liters, will be near ground level, and will have a valve from which to draw water. The tanks will be connected by piping, and a moat system, constructed out of concrete and brick, will mitigate runoff.
The community will contribute bricks and volunteer labor.
Water Charity funds will be used to purchase the water holding tanks, piping, fittings, fixtures, gutters, and concrete.
The water will require treatment or filtration before consumption. Safe water practices will be taught to the students.
The school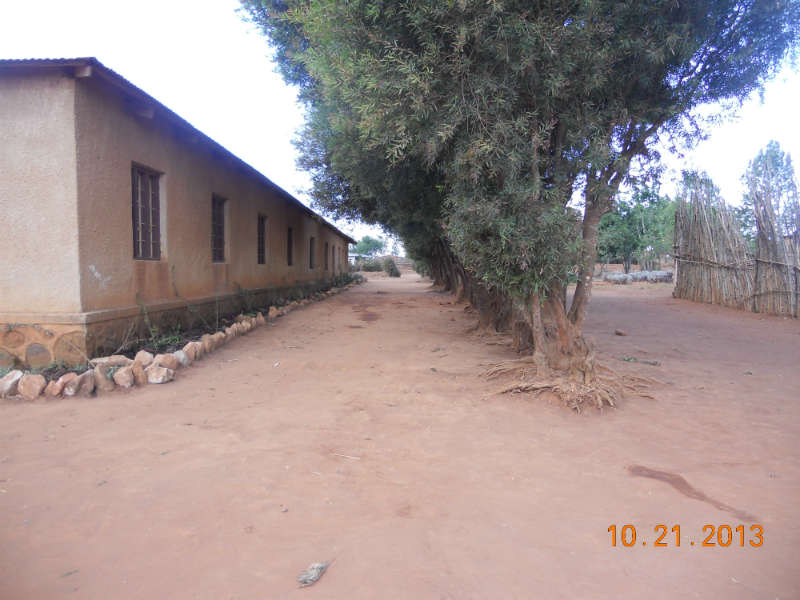 board will be responsible for maintenance, and upkeep labor will be volunteered by invested parents and community members.
Nutritious produce (such as tomatoes, carrots, pumpkins, beans), as well as leafy greens, will be planted once water is more accessible to the gardens. Produce will be utilized for students' lunches, with the excess sold.
Project Impact
498 students and 7 teachers directly benefit.
Peace Corps Volunteer Directing Project
Jacci Zappa
Comments
The project will lessen the burden of fetching water, giving students more time to study. The ample supply of drinking water will improve their health and wellbeing. In addition, the school will be able to sell the excess vegetables to enable them to decrease school fees.
Dollar Amount of Project
$555.00
Donations Collected to Date
$555.00 + additional funds for future projects.
Dollar Amount Needed
$0.00 – This project has been fully funded through the generosity of friends and family of Peace Corps Volunteer Jacci Zappa. Additional funds have been donated which will be applied to future projects.
We encourage others to continue to donate using the Donate button below, and we will notify Jacci of your donation. Additional funds will be used to fund the next project by Jacci and/or those of other PCVs in the country of service.
This project has been completed. To read about the conclusion, CLICK HERE.