Conclusion of Nyamanga Handwashing Station Project – Kenya
This project has been completed under the direction of Peace Corps Volunteer Elise Wojcik.
To read about the beginning of the project, CLICK HERE.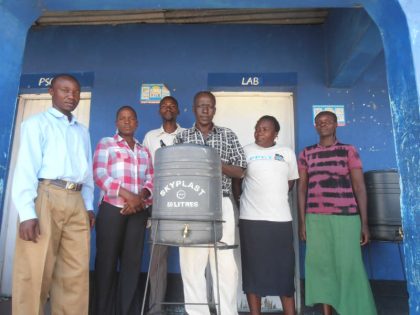 The project was to provide handwashing stations at the local health clinic and 4 nearby schools.
Elise reports:
Through the help of Water Charity, the community of Karungu was able construct 9 handwashing stations and deliver them to seven schools and one health clinic.

Each station consists of a metal stand and a 50 L jerrycan with a metal tap.

The chairman of the Nyamanga clinic helped to negotiate the costs and transportation to the sites. A local welder constructed and painted nine metal bases, purchased nine 50 L jerrycans, and fixed the taps to the bases of the jerrycans.

Six schools each received one station, one large school received two, and the last one went to the Nyamanga Dispensary.

Staff at the schools and the clinic were incredibly thankful, and expressed relief at having a better means for students and themselves to wash their hands.

The nurses at the Nyamanga clinic told us again how much of a problem diarrheal diseases are for the children in the community. Having a handwashing station at the school reduces the spread of disease in the school, and reinforces handwashing as a good health habit for the students.

"We have great appreciation for this donation" said one teacher during a handing-over ceremony. "This is something we have needed for a long time."

This project will improve the hygiene levels for the several thousand students who attend these schools, as well as over five thousand patients who visit the health clinic each year.
We are grateful to Elise for completing this important project.