Novoukrainka School Water Project – Ukraine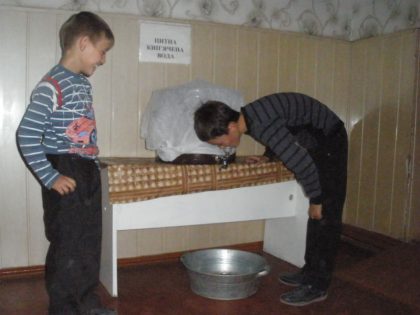 Location
Novoukrainka, Kirovohradska Oblast, Ukraine
Community Description
Novoukrainka is a regional center with a population of nearly 20,000 people, located in the Kirovohradska Oblast of central Ukraine, approximately 65 kilometers from Kirovohrad (the oblast center).
Novoukrainka is desperately trying to recover after the collapse of some industrial businesses, including a sugar plant factory and the decline in agriculture, which left many people unemployed. Although the unemployment rate is high, the town center flourishes as a place for educational, cultural, historical, and economic exchange between community members.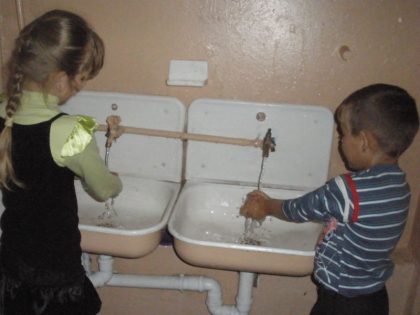 Water is a major problem Novoukrainka. The entire community must either boil or filter their water before consumption, when water is available.
Novoukrainka School Number 7 serves the community, with a concentration on English language study and active student extra-curricular programming.
When the school was built in the 1950's, the plan included the later addition of a cafeteria. However, this plan was never fulfilled. The current cafeteria has been converted from a classroom and lacks the proper equipment to serve students' health needs.
Currently, students must drink water from a broken tank, forcing students to place their mouths on the faucet of the tank. The tank must be filled each morning with previously boiled water…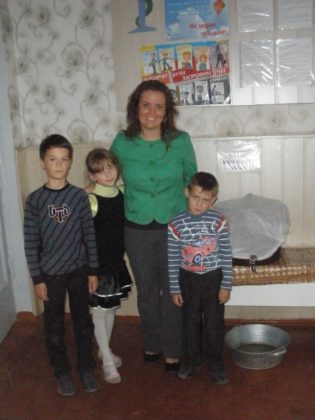 Project Description
This project will bring easily-accessible drinking water to students and staff at School Number 7.
Two new handwashing stations and a drinking fountain will be provided in the corridor of the school.
An upgrade to the sinks, with soap dispensers, will greatly improve the water quality and decrease the spread of bacteria among the school community.
In addition, clean drinking water will be provided for the school cafeteria. Project funding will provide for two water filters, replacement filters, two cabinets and sink combinations for handwashing stations, new faucets, soap dispensers, and paper towel holders.
The school community fully supports this project and will provide all transportation for new purchases and skilled labor to install the new equipment. In addition, they will maintain this upgrade, purchase new filters, and provide soap and paper towels.
Project Impact
This project will directly impact the 340 students and 45 staff at Novoukrainka's School Number 7.
Peace Corps Volunteer Directing Project
Natalie Brusseau
Comments
This project will improve the availability, cleanliness, and overall quality of the water for students and staff at the school.
Dollar Amount of Project
$500.00
Donations Collected to Date
$500.00
Dollar Amount Needed
$0.00 – This project has now been fully funded through the generosity of The Soneva SLOW LIFE Trust as a part of their Clean Water Projects initiative.
We encourage others to continue to donate using the Donate button below, and we will notify Natalie of your donation. Additional funds will be used to fund the next project by the PCV and/or other projects in the country of service.
This project has been finished. To read about the conclusion of the project, CLICK HERE.