Novomykolaivka School Number 1 Water Project – Ukraine
Location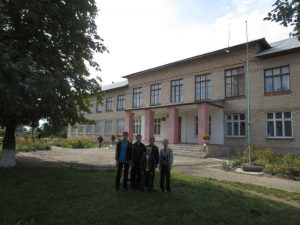 Novomykolaivka, Verkhnidniprovsk Rayon, Dnipropetrovsk Oblast, Ukraine
Community Description
Novomykolaivka, with a population of about 4,000, is located in the Dnipropetrovsk Oblast in Ukraine. It sits 5 minutes from the Dnipro River and one hour north of the city Dnipropetrovsk. The community consists of a wide range of ages, from pensioners to couples with young families.
Two schools serve the surrounding area. School Number 1 is an old Soviet-era building that contains 280 students from the 1st grade to the 11th grade.
Problem Addressed
Novomykolaivka is serviced by a water treatment facility almost 20 kilometers away. The water supply, especially to the school, is very inconsistent.
In the warmer months during school, all water flow to the school is cut off, which results in school being canceled or cut short because there is not enough water to cook lunch and to serve the toilets at school. On average at least one to two months of the school year is changed because of this problem.
Project Description
This project is to install a new water supply and storage system at Novomykolaivka School Number 1.
Two reservoirs, along with a new pump and related piping and fixtures, will be installed at the school.
The first reservoir, 1 cubic meter in size, will be in the cafeteria, 20 meters from the school. It will enable cooks to feed students every day even when there is no water.
The second reservoir, .7 cubic meters in size, will be in the main school building. It will provide water for regular school use, including sanitation.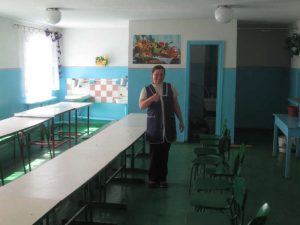 The reservoirs will be connected to city water system with additional piping, and a pump added.
The pump will operate whenever the main water line in Novomykolaivka is active in order to fill both reservoirs with water. The reservoirs will be kept full for use when the regular water supply is cut off.
The work will be done by the school handyman, with help from the parents of students. The community will also raise any additional funds needed for the project.
Water Charity funds will be used for the equipment and materials.
Project Impact
280 students, 25 teachers, and 15 staff members at the school will benefit.
Peace Corps Volunteer Directing Project
David Fox
Comments
This is an important infrastructure project for the school. It will prevent the cancellation of classes due to lack of water.
Dollar Amount of Project
$555.00
Donations Collected to Date
$555.00
Dollar Amount Needed
$0.00 – This project has been funded through the generosity of the Paul Bechtner Foundation.
We encourage others to continue to donate using the Donate button below, and we will notify Peace Corps Volunteer David Fox of your donation. Additional funds will be used to fund the next project by David and/or those of other PCVs in the country of service.

This project has been finished. To read about the conclusion of the project, CLICK HERE.