Ndiawene Peulh Women's Group Water Project – Senegal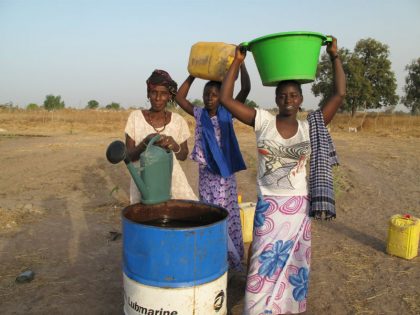 Location
Villages of Ndiawene Peulh and Darou Ndiawene, Koumpentoum Department, Tambacounda Region, Senegal
Community Description
Ndiawene Peulh is a rural community located in the Tambacounda region of Senegal. Most of the 130 people of Ndiawene Peulh are either farmers or herders. The village is located next to a larger Wolof village – Darou Ndiawene.
The local diet consists of rice, millet, peanuts, occasional fish, and occasional seasonal vegetables. Children and adults in the area lack easy access to consistent fresh produce. They rarely get basic minerals and vitamins found in fresh fruits and vegetables, and often suffer from various forms of malnutrition.
The communities of Ndiawene Peulh and Darou Ndiawene have begun gardening in a communal space of a hectare of land, sharing the burden of weeding, fencing, and water costs. Each of the 25 women and 5 men has an individual 3-meter x 1-meter plot within the hectare that the family is responsible for gardening. They grow tomatoes, lettuce, carrots, onions, chard, hot peppers, eggplant, okra, mint, and eventually potatoes will be planted.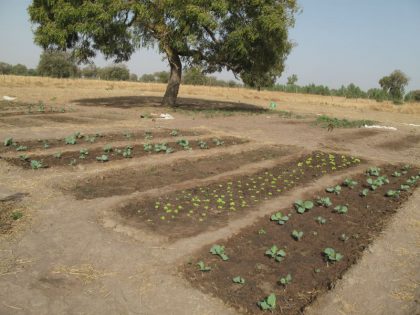 Currently, the closest water faucet to the garden is 140 meters away and all water must be hauled by hand. This makes gardening incredibly difficult and deters people from beginning new plots.
Project Description
This project will extend a water line to the garden and install a faucet, so that water will be readily available within the gardening hectare.
A trench will be dug by community members of Ndiawene Peulh to the garden. A plumber from a nearby village will lay and connect the piping from an existing water tower located in Darou Ndiawene to the garden.
Local masons will create a cement structure base for the faucet.
The materials, including PVC pipe, fittings, fixtures, and cement, will be purchased locally and transported to the site.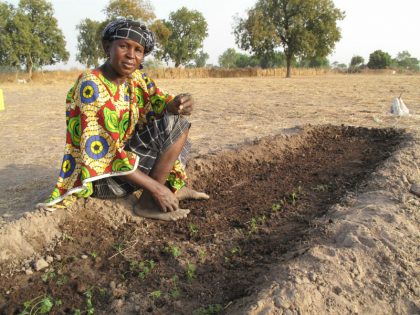 Water Charity Appropriate Project funds will be used to purchase all materials and pay for the labor of the masons.
Project Impact
200 people in two communities will benefit from the project.
Peace Corps Volunteer Directing Project
Emma Bunkley
Comments
This is an important project for the communities, in that it will ensure food security as well as improve the health and wellbeing of the participants and their families.
Dollar Amount of Project
$555
Donations Collected to Date
$555
Dollar Amount Needed
$0 – This project has been fully funded through the generosity of Helen Nelson, of Santa Fe, NM.
This project has been finished. To read about the conclusion of the project, CLICK HERE.