Nakarara Primary School Well Project – Tanzania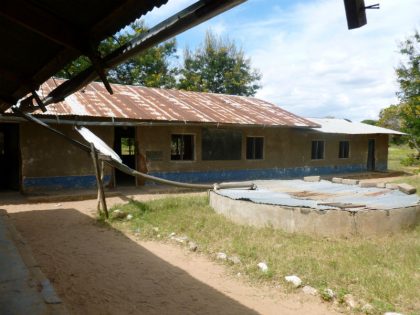 Location
Nakarara, Masasi district, Mtwara region, Tanzania
Community Description
Nakara village spans over 20 square kilometers and is situated between the Nakarara River and the beginning of the Makonde Plateau. The village has a population of over 4,000 people.
The current water sources are 8 shallow boreholes that have been dug by community members.
The Nakarara Primary School serves the community, and has 270 students and 5 teachers.
There is an existing well at the school, but it fell into disrepair and has remained unused for the past couple of years. It is presently ineffectively coved by corrugated tin, allowing for the entry of contaminants.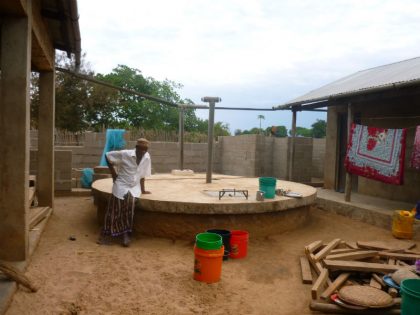 Project Description
This project is to repair and upgrade the existing well at the primary school to provide water for the use of students and teachers, as well as for irrigation of the school garden during the dry season.
The well will be increased in depth, as funding permits, and re-cemented to maintain water purity and provide for longevity.
There will be a cement cover made to prevent contamination. Water will be retrieved through a latching door using a rope and small bucket, as shown in the picture at right showing a similar well.
Gutters will be attached to the edges of the roof to collect rainwater, which will be fed by pipes into the well.
The students have already brought sand to mix with the cement, and will assist the community with the mixing once the project has begun.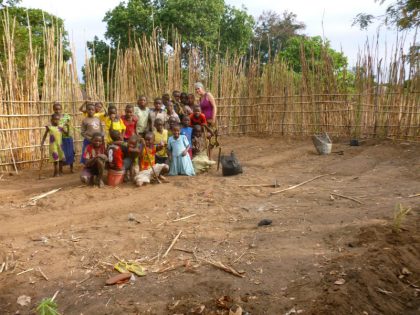 The students will start by cleaning of the well. The community around the school will help with the digging, as well as with the mixing of the cement. The skilled work will be done by local craftsmen.
Materials, consisting of piping, gutters, cement, and lime, will be bought with Water Charity funds.
The 6 houses surrounding the school will also use the well as a source of drinking water.
Project Impact
309 people will benefit from the project, consisting of 279 students, 5 teachers, and 25 residents of surrounding homes.
Peace Corps Volunteer Directing Project
Charlotte Grant
Comments
The project will provide water for the needs of the school and the residents of surrounding houses. In addition, it will result in water for the school garden, permitting the effective growing of crops. This will provide an economic benefit for the participants as well as add healthful foods to the marketplace.
Dollar Amount of Project
$500.00
Donations Collected to Date
$500.00
Dollar Amount Needed
$0.00 – This project has been funded through the generosity of the Elmo Foundation, with the assistance of friends and family of Peace Corps Volunteer Charlotte Grant.
We encourage others to continue to donate using the Donate button below, and we will notify Charlotte of your donation. Additional funds will be used to fund the next project by Charlotte and/or those of other PCVs in the country of service.



This project has been finished. To read about the conclusion of the project, CLICK HERE.