Conclusion of Mwande Primary School Water Project – Tanzania
This project has been completed under the direction of Peace Corps Volunteer Raychel Hebron.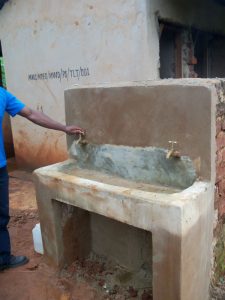 To read about the beginning of the project, CLICK HERE.
The project was to repair the concrete water holding tank, install a rainwater catchment system, and build a handwashing station.
Raychel reports:
We have successfully completed the project at Mwande Primary School in Kila Kala Ward, Morogoro Municipal, Morogoro Region.

We had a short 2-week delay after receiving the funds due to rain. But once we dried up the project began. Workmen and volunteers started first with repairing the water holding tank. Both the outside and inside of the tank were patched, a new tap was inserted and a new cover was installed.

Next, a handwashing station was built adjacent to the bathrooms. Running water was brought to the sinks through the installation of piping connecting the handwashing station to a previously unusable tap.

Finally, guttering system was attached to one classroom. The water leads into the newly refurbished water holding tank. This will help to ensure that the water tank is full even when the taps are turned off.

Following the completion of all three activities the work was presented and officially turned over to the school. The school could not be happier with the final result.

We thank Water Charity for the support on this project!
We are grateful to Raychel for completing this important project. We are also grateful to the Elmo Foundation and Raychel's family and friends for providing the funding for the project.